Prosecutor's Office renews investigation of Prisoner Arkania's case
By Ana Robakidze
Friday, December 27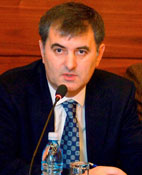 The Prosecutor's Office has resumed the investigation of the case of prisoner Malkhaz Arkania, who reportedly was tortured and mistreated in prison. On December 26th, the Prosecutor's Office released an official statement informing that "the former Head of the Security Department of Facility No. 8 of the Department of Corrections, Victor Kacheishvili, and the former Head of the Division of Legal Regime of the same Facility, Oleg Patsatsaia, were charged by the Chief Prosecutor's Office of Georgia in connection with the fact of torture of a prisoner in order to get a confession on preparing a terrorist act, and the Deputy Head of Samegrelo – Zemo Svaneti Regional Main Division of the Ministry of Internal Affairs, Megis Kardava, was charged in absentia, since he avoids appearing to the investigative body."
Arkania was originally arrested with drug dealing charges in 2011 and was placed in Facility No. 8. However, according to the Prosecutor's Office, he was under constant pressure and oppression in prison. Allegedly, he was requested not only to admit to participation in a terror attack, but also to accuse several other persons in the preparation of the same crime.
The Prosecutor's Office has informed that Arkania refused to confess to a crime he had never committed, in accordance to the instruction of Megis Kardava, an employee of Facility No. 8. Victor Kacheishvili, together with persons unidentified by the investigation, took Arkanaia down to so called "Quarantine" were they made him watch an unidentified man being raped, and after this Kardava threatened Arkania that if he did not give the desired testimony, he would have the same fate. After getting Arkania's refusal, Kardava, together with Victor Kacheishvili, Oleg Patsatsia and other persons unidentified by the investigation, severely tortured Arkania."
According to the prisoner Arkania's story, he was taken to Prison 8 on May 19, 2011. "The next day I was taken to the director's office where I met Megis Kardava. He said I had to write a confession letter about participation in terrorist acts which had occurred in Zugdidi. I said I had no connection with those facts but he told two strangers to take me to the quarantine cell. On the way downstairs they were beating me. Then they took me to a cell door and made me look into the window where I saw a man was raping another man inside the cell. The officers told me to watch it carefully and remember. They said unless I wrote confession letter, I would face a similar problem." Arkania told investigation.
The investigation revealed that Arkania was repeatedly interrogated from May 2011 to February 2012 regarding the "terrorist act" and "in order to get a desirable testimony during one of the confrontations, Kardava put a gun on Arkania's head and imitated shooting. Due to being under pressure, Arkania was also forced to withdraw the lawyers protecting his rights. Arkania tried to commit suicide due to him being repeatedly tortured. "
Minister of Corrections and Legal Assistance of Georgia, Sozar Subari, commented on Arkania's case and said that the prisoner became a victim of a "crime of the system," typical to the previous government.
"Arkania spoke about him being tortured from the very beginning. However, no one paid attention to his statement and neither investigation process was launched. Nowadays we have a successful investigation and suspects have already been revealed," Subari said.
The investigation is going on under part II of Article 1441 of the Criminal Code of Georgia, which stipulates imprisonment for the term of nine to fifteen years as a punishment.