National Heritage Communicates History
By Ekaterine Tchelidze
Friday, December 27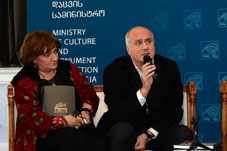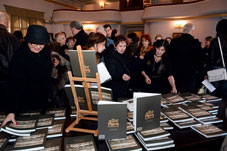 The first presentation of the catalogue "100-year History of the National Museum of History in Tbilisi" took place in the Ministry of Culture and Monument Protection in Georgia on December 25. The event was organized in celebration of the 100-year anniversary of the National Museum of History.
The catalogue is one of the most important joint projects of the Ministry of Culture and the Museum of History. It does not only contain major works collected in the museum throughout the past centuries, but also reflects complete history of Tbilisi.
The museum contains 10 funds including more than 50 000 items from the early Neolithic Era to present days. They belong to archive documents, photographs, precious metals and even household items.
According to Davit Lortkipanidze, General Director of the National Museum, outstanding respect and dedication to the nation's history helped preserve all the exhibits regardless of the obstacles encountered. As a result, they [exhibits] became some of the most important objects of research, aiming to familiarize Georgian nation with its historic and cultural heritage. Lortkipanidze also said that the museum should not only be considered as a "treasury" of the state, but also as a "bridge between past and present."
"From the beginning, the National Museum of History was more than just a museum. It has been a place for important meetings, where cultural heritage provided a bridge between past and present. Personally, for me the exhibits represent a scientific infrastructure. They are not only items with superfluous meanings, not only sources of knowledge, but rather objects of research," Lortkipanidze said.
According to him, citizens have to acknowledge function of Georgian history in order for it to maintain a valuable place both in the life of Tbilisi as well as in research of national heritage.
Marine Mizandari, First Deputy Minister of Culture and Monument Protection of Georgia and Manana Berikashvili, Deputy Minister also attended the presentation.
In conclusion all the attendees agreed on the fact that national heritage is a primary source of history and culture. Thus, Georgian nation has to preserve it for as long as possible in order to spread the word of history to younger generations.
Ekaterine Tchelidze studies Journalism and Mass Communication at the American University in Bulgaria.