UNM rallies to save "endangered" Georgian democracy
By Ana Robakidze
Monday, December 30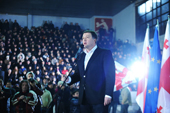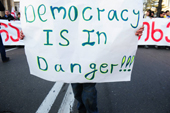 In order to "save the democracy in Georgia" the United National Movement (UNM) together with its supporters rallied in Tbilisi. Protesters marched on Rustaveli Avenue towards the state chancellery. Before marching, UNM leaders and party members gathered at Vera Basketball Hall, where Gigi Ugulava who was suspended from Tbilisi's mayoral office and other leaders addressed their supporters.
The UNM protested the latest political developments in Georgia, as well as the criminal prosecution of Ugulava, who was recently suspended from office according to the court's decision as well former Prime Minister Vano Merabishvili.
Before beginning the rally, UNM Foreign Relations Secretary Giga Bokeria made a statement and explained the main goals of the rally.
"When a directly-elected mayor is being suspended from office through means other than an election, it amounts to shaking fundamental aspects of the democracy," he said. According to Bokeria, the rally was held to show the ruling party that it is impossible to "stop" or "intimidate" the UNM. He also said that the Georgian Dream coalition with its political course is a great harm to Georgia.
The oppositional party also demands that Chief Prosecutor Otar Partskhaladze resign urgently, due to the recently emerged allegations about him committing a crime and serving a sentence in Germany at the age of 25.
"There is one thing we should remember, we may be prosecuted today, but we will overcome everything. Life is managed the way that society loves winners," Ugulava said in his address. He added that the PM is trying to justify the instigations of the Chief Prosecutor and he is becoming a participant of the same crime. Ugulava also spoke about the prosecutions against him saying he will never try to avoid his responsibilities, but the court will have to prove he is guilty.
"The government has to stop its illegal actions today. Otherwise, it may be too late tomorrow. Every day we observe the erosion of democracy and this must come to an end," Ugulava said.
UNM leader Giorgi Gabashvili announced at the rally that even larger scale demonstrations are planned to take place after the New Year.