South Caucasus: The year in review
By Messenger Staff
Monday, December 30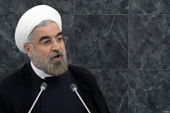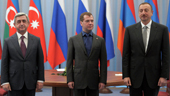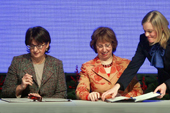 The South Caucasus has been relatively calm in 2013. However, some pressing situations remain, some of which should be addressed in the coming year.
Ongoing problems in the Middle East have influenced the situation in the South Caucasus. The situation in Syria, as well as the slight warming of relations between Iran and the US, have also had some influence. In both cases, military confrontation between the East and the West has been avoided.
In the case military action is launched against Iran, Russian analysts have suggested the inevitable possibility of Russia entering Georgian territory in its quest for a direct land link with its strategic partner Armenia.
There was also the possibility that military operations would resume over the mountainous Karabakh region between Armenia and Azerbaijan. Fortunately, all these scenarios have been avoided.
Everybody admits that the major hot spot in the South Caucasus is Karabakh. Azerbaijan is increasing its military budget by purchasing more and more sophisticated weapons and training its soldiers. Its military budget is exceeding Armenia's entire budget. However, Yerevan manages to maintain parity of course with the help of its strategic partner – Moscow.
Russian assistance to Armenia has become deeper and currently it is reinforced by Yerevan's announcement of joining the Customs Union. Meanwhile, Turkey-Azerbaijan relations are also progressing. Moscow, at the same time, tries to recover its position in Georgia, but maintains its occupation policy.
If Armenia turned its back to the EU by agreeing to join the customs union with Russia, Georgia meanwhile, solidified its wishes to become an EU Association member by signing the document at the Eastern Partnership Summit in Vilnius this November.
After the failure of the EU to convince Ukraine to sign the association document, the EU announced it would speed-up the formalities for Georgia and Moldova and presumably the agreement will be signed by August 2014 if of course, Russia does not interfere in some provocative way.
Many analysts, politicians and journalists here in Georgia predict provocations from the Russian side in this regard, as Georgia's commitment to become an EU associated member really frustrates the plans of Russia in the region. So, it is not yet known whether this will take the form of direct aggression or political-economical pressure. However, some kind of response is expected.
Meanwhile the West continues supporting Georgia either verbally by adopting different documents encouraging the country's territorial integrity, or by assisting it in moving closer to the EU, as well as supplying Georgia with defensive weapons.