Flights delayed due to bad weather
By Ana Robakidze
Tuesday, January 7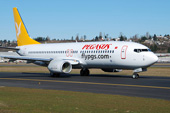 Around 150 citizens of Georgia are still waiting to take their flight from Istanbul to Tbilisi. The flight scheduled for January 5th was cancelled due to the bad weather forecast and the expected heavy mist. Flights from Tbilisi to Turkey had to be cancelled as well, as Turkish air-space is completely closed at the moment.
Turkey's Pegasus airlines has not provided customers with any information on the scheduling of the flights. Georgian citizens were only offered to be transferred to hotels until the Turkish air space is opened for flights again.
Passengers stuck at Gogchen airport say they addressed the Georgian Embassy in Turkey. However, Georgian diplomats have not been very helpful so far. Passengers say they were offered to purchase additional tickets and take the flight scheduled for late January 7th. However, Pegasus representatives do not give any guarantees to the passengers that they will be reimbursed the price for the original flight.
Zurab Makharadze, representative of Pegasus Airlines in Georgia, says the passengers who are waiting for the Tbilisi-Istanbul flight in Tbilisi International Airport, have been transferred to a hotel and a new flight has been booked for them at the company's cost.