Activists protest epistle outside the Patriarchate in Tbilisi
By Ana Robakidze
Friday, January 10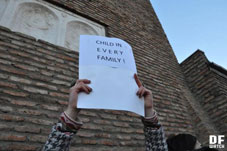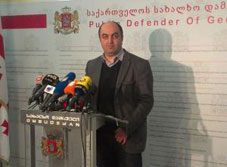 A group of activists gathered outside the Patriarchate on January 8 to protest the part of the Christmas epistle where the patriarch spoke negatively about surrogacy and in vitro fertilization (IVF). At the same time, a counter-rally was held by the people supporting the remarks voiced in the epistle. Police officers had to detain four individuals after a small scuffle ensued outside the Patriarchate. They were charged with hooliganism according the administrative Code of Georgia.
The patriarchate made a special statement regarding the demonstrations and said that it distances itself from any kind of violence.
"Today, at 4 pm, at the Patriarchate of Georgia, a small group of citizens organized a rally in connection with IVF and surrogate motherhood. Unfortunately, an incident took place between people with different opinions. The church distances itself from any kind of violence and calls on everyone to remain calm," the statement said.
Public Defender of Georgia, Ucha Nanuashvili condemned the violence and said it is unacceptable when citizens physically or verbally abuse other who share a different opinion. He announced that the incident is being investigated by his office. Also, his office will monitor the cases of the people detained by police.
Nanuashvili called on the government to fulfill its positive obligation to protect citizens' right to peaceful assembly and expression. The Public Defender pointed out the obligation of the government and responsible institutions to ensure protection of peaceful protesters from the third party aggression.
"It is essential the state takes timely and effective measures to prevent physical abuse or other violent acts. All those who committed an offence have to be identified and brought to justice. Appropriate punishment of offenders is a way to prevent further accidents and a guarantee of human rights," the statement reads.
Zurab Japaridze from the United National Movement, the main opposition party in Georgia, was the first from the lawmakers to comment on the epistle. He said that women, who become mothers as a result of IVF or through surrogate mothers, consider their children to be at God's mercy and the Church should be more attentive to these people. In his address to the Patriarch, Japaridze asked Ilia II to return the faith to the families, where the children born through artificial insemination or by surrogate mothers are being raised.
Instead of the artificial methods of fertilization, the church advises couples to adopt children. However, adoption in Georgia is a very long and difficult procedure. According to the official statistics, around 3,000 couples have applied to adopt a child and the estimated time to complete all necessary procedures may take about 5 years.
Government and social services agree that the law on child adoption should be amended. The Ministry of Labor, Health and Social Affairs announced that a package of amendments will be prepared in the near future and an amended law will offer more detailed, but at the same time a lot more simplified procedures on child adoption.