Additional charges against Akhalaia and Kardava
By Ana Robakidze
Tuesday, January 14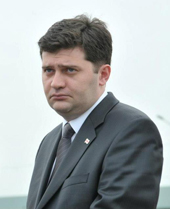 The Chief Prosecutor's Office of Georgia gave a special briefing on January 13th and announced that due to the new facts revealed during the investigation process, additional charges have been added against former Defense Minister, Bacho Akhalaia and former Deputy Head of Samegrelo-Zemo Svaneti Regional Main Division of the Ministry of Internal Affairs, Megis Kardava.
Trying to make them confess to a prison break act, several prisoners from the No. 1 detention facility were taken into the prison yard and beaten by Akhalaia and Kardava.
The Prosecutor's Office says that prisoner of No. 2 penitentiary facility Gia Gorgadze informed the facility director that he was offered by one of the inmates to escape from prison. Gorgadze expressed readiness to cooperate with the prison administration and help them to prevent a prison break. He personally met Akhalaia and they agreed that the planned prison break would be avoided with the help of Gorgadze's brother Shota Gorgadze and his friends.
However, on January 12th 2006, a special operation was planned and carried out by the constitutional security department and Shota Gorgadze and his friends Roman Surmanidze and Marad Armeladze were liquidated under dubious circumstances. It was claimed that Gorgadze and his friends had planned an armed attack on Rustavi No. 1 facility to help a mass escape of prisoners.
After the operation, Kardava and Akhalaia went to the Rustavi prison together with S.W.A.T members and started to physically abuse prisoners Gia Gorgadze, Davit Lekvtadze, Valerian Papava, Mikheil Mandaria, Mamuka Bechvaia and Berdia Meskhi. Without having any legal basis, Akhalaia ordered to transfer the prisoners into a stricter regime facility No. 7, where Akhalaia and Kardava together with S.W.A.T members continued to physically abuse inmates, trying to make them give a testimony and confess to plotting a mass prison break in Rustavi. Despite damage to their bodies, inmates were not provided with any medical help in prison.
According to the Prosecutor's Office, the investigation is still in progress and Akhalaia and Kardava may face from 7 to 15 years of imprisonment.
"It is a politically motivated process" Akhlaia's attorney Giorgi Oniani said. Commenting on the new charges against Akhalaia, Oniani declared that none of the names voiced by the Prosecutor's Office are familiar and probably those inmates do not even exist. "The Prosecutor's Office will have to step back, as it happened in previous cases." Oniani said.
Akhalaia also commented on the latest charges against him and said that all processes against him are ridicules and it is just a "masquerade" arranged by the Georgian Dream.
"I am not going to step back" Akhalaia says in a statement published on his official Facebook page, stressing he will fight the government back with all available legal and political methods.