New agency to promote start-up business
Tuesday, January 14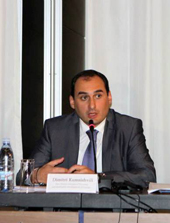 New businesses in Georgia will be given a helping hand following the establishment of a development agency.
The Entrepreneurship Development Agency will be set up in Georgia with the aim of promoting start-up businesses, Deputy Economy Minister Dimitri Kumsishvili announced on Monday.
Kumsishvili met with commercial bank representatives to discuss the initiative.
"Meeting with commercial banks is always very important. This is a sector that actually puts our economy into motion," Kumsishvili said following the meeting.
"Today we provided information on what stimulating actions our economic team will take on a short-term period to boost our economy. We also informed the guests on the establishment of a new agency, which will be called the Entrepreneurship Development Agency," he said.
Kumsishvili stressed that the creation of this agency was very important, as it would trigger the development of new businesses in Georgia, and respectively create a foundation for commercial banks to give credits to newly established businesses.
(Agenda.Ge)