PACE co-rapporteurs hold meetings in Georgia
By Ana Robakidze
Wednesday, January 15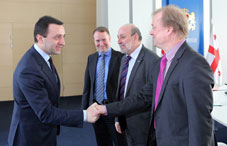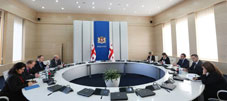 Michael Aastrup Jensen (Denmark, ALDE) and Boriss Cilevics (Latvia, SOC) co-rapporteurs of the Parliamentary Assembly of the Council of Europe (PACE) arrived in Tbilisi, to undertake a fact-finding visit to the country on January 13-15.
PACE co-rapporteurs will hold number of meeting with high ranking officials and with representatives of various political factions in parliament and representatives of judicial authorities and civil society.
According to the PACE press release "discussions will focus, in particular, on political developments after the election, constitutional reform, reform of the justice system, follow-up to the report by UN expert and former Council of Europe Commissioner for Human Rights Thomas Hammarberg (highlighting alleged miscarriages of justice, allegations of violations of property rights, pressure on local officials and opposition activists, prosecution of former government officials) and minority issues."
At the meeting with Georgian Prime Minister Irakli Gharibashvili, Jensen and Cilevics discussed minority issues, as well as constitutional and judicial reforms.
After the meeting, Gharibashvili said that Georgia is ready to take active steps in the further development of democracy and the country expects even stronger future cooperation with the European Council.
President of Georgia Giorgi Margvelashvili also hosted the co-rapporteurs on January 14th. At the meeting, the parties discussed the internal and foreign policy of Georgia, the political developments following the presidential elections in the country, as well as Georgia-Russian relations.
Before meeting the PM and the President, the co-reporteurs discussed the issues of minorities with the Public Defender, Ucha Nanuashvili and State Minister for Reconciliation and Civic Equality, Paata Zakareishvili. PACE representatives also held meetings with lawmakers.
Meetings are also planned with Justice Minister Tea Tsulukiani, Minister of Legal Assistance and Corrections Sozar Subari, as well as with the representatives of the Prosecutor's Office.