PF launches construction works for a Combined Cycle Thermal Power Plant in Gardabani
Monday, January 20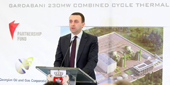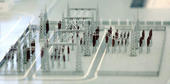 The Partnership Fund (PF), a state-owned shareholding company jointly with its daughter company, Georgian Oil and Gas Corporation (GOGC), starts construction of 230 MW Combined Cycle Thermal Power Plant in Gardabani, Kvemo Kartli region.
On January 17, at a ground-breaking ceremony, Irakli Gharibashvili, Prime Minister of Georgia as well as Kakhi Kaladze, Vice-Premier and Energy Minister of Georgia, Ahmet Cal?k, Head of Cal?k Holding and Irakli Kovzanadze, Executive Director of the Partnership Fund welcomed the guests.
The 230 MW Gardabani Combined Cycle Thermal Power Plant will generate 1.8 billion kw annually. It will be put into operation by the end of 2015 and will supply the local market with the additional electricity. Additionally, if there is any problem with electricity supply in the country, the plant will have a reserve capacity to supply energy grid of Georgia for 25-30 minutes, guarantying sustainability of the whole system.
The total cost of the investment project is more than $ 200 million. It is financed jointly by the Partnership Fund and Georgian Oil and Gas Corporation (GOGC). Cal?k Enerji, a Turkish giant energy company is constructing the plant.
(Partnership Fund)