Another violation of territorial integrity
By Natalie Osipovi
Wednesday, January 22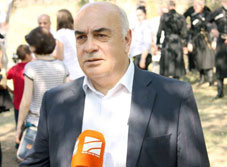 Russia has created a temporary border zone in the occupied Abkhazia. The decision was made in connection with the upcoming Winter Olympics in Sochi, which is located only about 20 km from Abkhazia.
Authorities of breakaway Abkhazia expanded the "border zone", where enhanced security measures have been taken 11 km deep in the Gagra district. The border will span the Psou River to the Bagripshi settlement. The zone includes eight settlements: Bagripshi, Khashi, Khishkha, Makhadiri, Mklialripshi, Lapstakha, Giachipshi and Tsandipshi.
President of Russia, Vladimir Putin, ordered the strengthening of safety measures in nearby Sochi. According to Apsnipress, this means that those entering this territory between January 20 and March 21, will have to present ID cards and passports. In addition, restrictions are also being imposed on the movement of trucks, whose owners have to receive special accreditation to pass the border during the Olympics.
There will also be a checkpoint created at Bagripshi, which will be completed by the staff of the Ministry of Internal Affairs and Immigration Service. They will check the IDs and patrol the places located on this border 24 hour a day.
This order will remain in effect until March 21.
Georgia's Foreign Ministry voiced "deep concern" and published a statement on Monday, where they criticized Russia's actions.
"Creating a border zone on Georgia's sovereign land without permission from the Georgian government once again violates Georgia's territorial integrity and sovereignty and is a violation of Russia's international obligations, fundamental principles of international law and the ceasefire agreement," the statement reads.
The ministry also expresses concern that along with moving the border, Russia is continuing to install razor-wire bundles and fences along the demarcation line with Abkhazia and South Ossetia.
"The Ministry of Foreign Affairs calls on the Russian Federation, to stop [their] provocative acts against Georgia and fulfill its international obligations, first of all, the conditions of the ceasefire agreement," the statement says.
Analysts are also making statements on this matter.
"Obviously, the settlement of Abkhazia will be dissatisfied with these restrictions and they should be given some compensation in order to prevent the protest".
The temporary Head of the Abkhazian government, Vakhtang Kolbaia, stated that this is another step in the interference of Georgian issues.
"It does not matter if there is 11 kilometer or 12. The problem is that we are speaking about the border between Georgia and Russia, not between Abkhazia and Russia," he said.