U.S. Army Europe Command Sergeant Major pays visit to Georgia
Thursday, January 23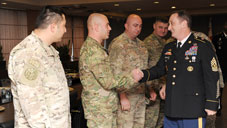 U.S. Army Europe Command Sergeant Major David S. Davenport paid a two-day official visit to Georgia. Sergeant Major of Georgian Armed Forces Aluda Kopaliani is hosting Davenport. Yesterday Sergeant Major Aluda Kopaliani and Sergeant Major David Davenport met with Deputy Chief of the General Staff Col. Vladimer Chachibaia. The U.S.-Georgia military cooperation issues were discussed at the meeting.
Sergeant Major David S. Davenport held meetings with sergeants of the GAF. The main topic of the conversation was the enhancement of the level of professional education among the sergeants. The sides also talked about the conference scheduled in May of current year in Georgia with the participation of European armies` sergeants major. Within the frames of the visit, Aluda Kopaliani hosted his U.S. counterpart in the National Training Centre. The Georgian military officials informed Sergeant Major David S. Davenport of the progress of the pre-deployment preparation of the 23rd Battalion for the ISAF mission.
Tomorrow, U.S. Army Europe Command Sergeant Major Davenport will visit the Giorgi Antsukhelidze NCO Centre and will observe the process of admission to NCO training courses. Before departure, the U.S Sergeant Major will visit the military servicemen in Gori wounded in the ISAF mission in Afghanistan.