David Narmania meets NGOs and regional media
By Natalie Osipovi
Friday, January 24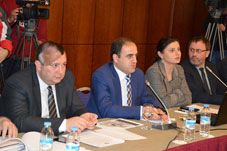 The Minister of Regional Development and Infrastructure David Narmania held a meeting with the representatives of the regional media and nongovernmental organizations at the Courtyard Marriott Hotel on January 23.
"The main aim of the meeting with the regional media is to inform the rural population of Georgia about our 2013 activities and 2014 plans. This report is very important because of both the openness and transparency of our system, as well as the people's awareness," Narmania stated.
Narmania said the ministry's budget in 2014 would amount to 875 million GEL, including 501 million that will be spent on road infrastructure, 187 million on regional and municipal infrastructure rehabilitation, 131 million on water supply system restoration and 50 million for supporting internally displaced persons.
While presenting the 2014 action plan of the ministry, Narmania mentioned that all of the projects of 2013 will continue in 2014. Public roads will be constructed in Kobuleti and Rustavi and transport bridges will be rehabilitated in the country wherever necessary. Building new ambulatories is also one of the significant projects of the ministry. The living conditions of refugees will be improved.
"Our main priority still is transparency and accountability," Narmania said, stressing that the ministry will periodically present reports publicly on the progress achieved.
According to the minister, public information on every project of the Ministry of Regional Development and Infrastructure is available at www.mrdi.gov.ge together with the detailed report on the expenses so that the citizens can access the information online.
Members of the Regional Civil Society Network (R-CSN), which is financed by USAID and G-PAC and facilitated by the Civil Development Agency (CiDA), attended yesterday's presentation. Chiefs of the Roads Department, Municipal Development Fund, the United Water Supply Company, and Solid Waste Management Company were also present.