Council of Europe Human Rights Commissioner visits Tbilisi
By Ana Robakidze
Monday, January 27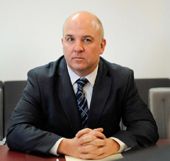 The latest reform carried out by the Georgian government in the penitentiary system has greatly impressed Council of Europe Human Rights Commissioner Nils Muiznieks.
At a press conference summarizing his six-day visit to Georgia Muiznieks said the transparency that was implemented in the penitentiary system and the improvement of medical care in prisons is highly welcomed.
"I am greatly impressed by the changes in the penitentiary system that was implemented after the shocking scandal of prisons. A number of people who have committed crimes of torture and inhumane treatment are already imprisoned. It is essential that these efforts continue," the commissioner stated.
The steps taken to prevent illegal spying were also positively evaluated by Muizniek.
"I appreciate the fact that illegal recordings were destroyed and the police department responsible for these actions was demolished. I also welcome the guarantees that such bad practice will not continue. Particularly I would like to highlight the importance of the Data Protection Inspector Institute establishment," he said.
Muizniek visited Georgia to study the developments in human right protection, as soon he will have to submit a report on Georgia in several months.
At the meeting with the Chairman of the Parliament Davit Usupashvili the two discussed reforms in the legislative and penitential systems, self-governance and issues related to national minorities.
In the parliament, Muizniek also met with the Chair of Human Rights and Civil Integration Committee, Eka Beselia. According to the Parliamentary Press Centre, "Beselia informed the guest about the recent facts of the violation of human rights and the changes by the parliament to the Criminal Code on judiciary independence, freedom of media and the formation of the Council of Justice. She provided the information on several complaints to the Prosecutor's Office and noted that getting a response is one of the challenges."
The CoE Commissioner had meetings with President Giorgi Margvelashvili and Patriarch of Georgia Ilia II.
According to the president's press office, Margevalshvili informed the commissioner about the situation in the justice system, judiciary, human rights on the occupied territories and about the protection of border villages. The president's Adviser for International Affairs Ivane Machavariani and the PM's Permanent Representative to the European Council Konstantine Korkelia also attended the meeting.
Patriarch Ilia II thanked Muiznieks for visiting Georgia. "We live in a very difficult time and your support is very important for us. " Ilia II told the commissioner. Muiznieks promised the Patriarch, that he will help Georgia to establish a culture based on the protection of human rights, and meanwhile maintain its own traditions and qualities.