Prime Minister of Georgia finished his visit in Switzerland
Monday, January 27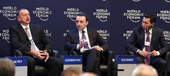 Georgian Prime Minister Irakli Garibashvili completed his visit to Switzerland where he attended the 44th annual meeting of the World Economic Forum in Davos.
Prime Minister gave speeches at the Eurasia: the Next Frontier? and South Caucasus and Central Asia: Path to Global Economy sessions, as part of which he discussed the advantages of the energy sector, prospects of economic growth, and challenges facing regional integration. He also participated in an informal meeting of world leaders to identify next year's economic priorities.
Within the framework of this visit, Garibashvili held face-to-face meetings with the leaders of a number of countries, including President of Estonia, President of the Swiss Confederation, Prime Minister of Finland, and Prince of Saudi Arabia. It was pointed out at the meeting with Turki Al-Faisal that Saudi Arabia is ready to invest in Georgia. Garibashvili also met with Carl Bildt, Swedish Minister of Foreign Affairs, who stated that Georgia is expected to sign the Association Agreement before August.
Within the framework of the World Economic Forum, meetings with representatives of leading companies were held, such as LAZARD, TATA SONS LTD, EMAAR PROPERTIES, JUMEIRAH GROUP, BLACKSTONE GROUP, LAFARGE, AGILITY LOGISTICS, AGCO, ROYAL PHIPIPS, and MOLLER MAERSK. Leaders of these companies inquired into Georgia's business environment. They expressed willingness to invest in Georgia's energy sector, agriculture, and tourism.
In addition, Georgian Prime Minister held meetings with the leaders of the World Bank and the European Bank for Reconstruction and Development. After the meeting, EBRD President Suma Chakrabarti pointed out that the 2015 annual EBRD meeting will be held in Tbilisi, marking the first event of this magnitude in the Caucasus and enabling Georgia to attract new investment inflows. EBRD also plans to invest further in Georgia's energy sector.
During this visit, Georgian Prime Minister found himself in the center of media attention. An interview with Irakli Garibashvili was reported live on CNBC. He also gave an interview to the Bloomberg agency. Besides Prime Minister, the Georgian delegation comprised Minister of Economy and Sustainable Development Giorgi Kvirikashvili; Minister of Foreign Affairs Maia Panjikidze; Georgian Co-Investment Fund CEO Giorgi Bachiashvili; Director of Georgian National Investment Agency Giorgi Pertaia; and Georgian Railway General Director Mamuka Bakhtadze.
(Prime Minister's Press Service)