EBRD marks Georgia's achievements
By Ana Robakidze
Wednesday, January 29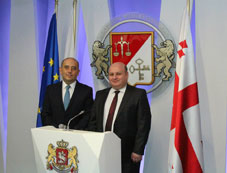 EBRD Director Bruno Balvanera, who is paying his official visit to Georgia, announced that it was important for EBRD to hold the session in the Caucasus region, and Georgia was the country able to offer the appropriate conditions. Also the fact that the country has shown significant improvement in democracy has been considered by the European Bank for Reconstruction and Development (EBRD).
"This is a way to recognize Georgia's achievements. Georgia is the number one reformer and democratic country, where a peaceful change of government has been witnessed," Balvanera said at the joint press conference he gave together with the Georgian Minister of Finance, Nodar Khaduri on January 28
"It is extremely important that Tbilisi was chosen to host the 2015 Annual Meeting of the EBRD. It is the first meeting of such a high importance to be held in the Caucasus. It can be said without exaggeration that in May 2015 Georgia will become the epicentre of an event of international importance, an excellent opportunity for our country to attract significant foreign investment," the Minister of Finance said.
Georgia will host the 24th Annual Meeting of the Board of Governors and Business Forum of EBRD on 14-15 May 2015.
The announcement was made at the World Economic Forum in Davos, after a meeting between the Prime Minister of Georgia, Irakli Garibashvili, and EBRD President, Sir Suma Chakrabarti.
"I am very much looking forward for this event. We are making a big business development event, trying to attract investors to Georgia," Chakrabarti then said.
EBRD members include 64 countries and 2 international organizations (EU and EIB). The Annual Meeting will be attended by EBRD governors, which include 34 Ministers of Finance, alternate governors, representatives of businesses and international organizations and other guests.
EBRD is an important partner of Georgia. The organization has financed over 165 projects in the country, amounting to around1.8 billion EUR. 81% of funding is allocated for private sector projects.
The EBRD has already identified the cooperation priorities for 2013-2016. According to the Ministry of Finance, the European Bank's "main directions include the promotion of private investments, the modernization of the energy system and the facilitation of Georgia's regional and global integration – development of Georgia as a regional hub."