Presentation of Communication Vehicle
Thursday, January 30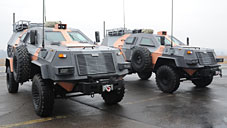 The National Military Scientific-Technical Centre "DELTA" hosted guests for the presentation of a new military vehicle – the Communication Vehicle. A product of modern communication, the vehicle aims to transmit and receive the exact information or command promptly and without delay for a rapid and mobile army during operations. The operative tactical level communication vehicle was manufactured on the base of the Didgori armored vehicle unified platform. Head of the Scientific-Technical Centre DELTA, Ucha Dzodzuashvili introduced the technical-tactical characteristics of the communication vehicle to the guests. The vehicle is characterized by reliable armor, good maneuverability, all terrain, safety and protection for the crew and rapid movement. The new modernized vehicle was created according to the best traditions, which are really needed by the Georgian Armed Forces. As Head of Delta Ucha Dzodzuashvili outlined, the center created a modern, protected and functional vehicle, which was necessary for the Georgian Army:
"In contrast with other projects implemented by Delta, first of all, the product's role was developed in the Armed Forces, then the technical reference was developed, later the construction design solution was developed and only after these all were accepted did the production process begin."
"The production has already been tested. Assessments from the military servicemen were also taken into account. First of all, the bad experience from the August War of 2008 was considered while manufacturing this vehicle. During the combat operation, Georgian Armed Forces had a shortage of communication and command. For this purpose, the military gave the order to Delta to create a means of communication. Workers of the center carried out these tasks perfectly. Of course, the vehicle will also be tested in working or combat conditions. But the most important is that the Georgian Army has a reliable communication system on the battalion level. This will be essential for the communication integrity of the entire combat operation. Other projects are also scheduled in the future, which will be fulfilled and become publicly known. We focus on manufacturing the products in Georgia. I'd like to outline that the Georgian military industry was developing stage by stage. I hope that this product will be exported in the future as well," stated Defense Minister Irakli Alasania. The minister also outlined that a newly produced communications vehicle will be distributed to the units according to the necessity from the military. Secretary of National Security Council Irine Imerlishvili, State Minister of Georgia on European and Euro-Atlantic Integration Alex Petriashvili, Chairman of Defense and Security Committee of Parliament Irakli Sesiashvili, as well as the diplomatic corps accredited to Georgia, attended the event. Due to the tireless work and devotion of Delta engineers, construction workers, turners, and welders, the project was carried out successfully.