Ombudsman requests investigation into cases of illegal surveillance
By Ana Robakidze
Thursday, January 30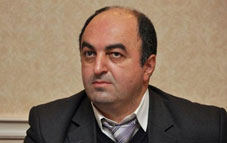 Georgian Public Defender Ucha Nanaushvili welcomes the work the Ministry of Internal Affairs has carried out to destroy part of the illegally obtained video and audio recordings of the private lives of citizens. However, the Ombudsman says cases of illegal surveillance still have to be investigated.
The official statement made by the Public Defenderís office on January 28th says, it is necessary to carry out a comprehensive investigation on the facts of these violations of fundamental rights and bring the responsible individuals to justice. Nanuashvili and his office fear that delaying the investigation process may strengthen the syndrome of impunity and cause a worse situation in human rights protection.
ďThe Ombudsman believes that the tapes should not be destroyed in the way that it hinders the interests of the investigation. A one-off action of destroying materials containing illegally obtained information about individualís private lives cannot ensure firm legal guarantees of inviolability of personal space... The recognition of such violations, revealing of the persons responsible for the violations and holding them accountable will become a basis for preventing such violations,Ē the statement says.
Nanuashvili calls on the authorities to consider earlier recommendations given by the European Unionís Representative for Human Rights, Thomas Hammarberg, and launch an investigation on the materials depicting human torture.
The State Commission on the issues of illegal eavesdropping and surveillance hold its meeting on January 29th. After the meeting, Deputy Minister of Internal Affairs Levan Izoria said that after summarizing the work carried out by the commission it once again became clear that illegal eavesdropping and surveillance was a common practise in previous years.
According to the Deputy Minister, about 653 CDs, containing approximately 750 hours of footage was obtained by the ministry. The Commission was created as an interim body and its term expires on January 31st. After the Commission is dissolved, all the material containing illegally obtained personal data on various individuals will be forwarded to the prosecutorís office for the further investigation.
The members of the State Commission also agreed to issue a public report summarizing the commissionís work.