The State Commission will destroy secret video recordings
By Ana Robakidze
Friday, January 31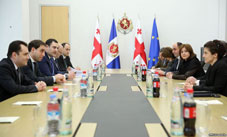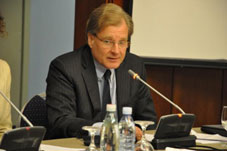 The state commission on the issues of illegal eavesdropping and surveillance decided to destroy part of the 28,000 files of secret footage containing information of the private lives of Georgian citizens. Another part of the material, reflecting torture and inhumane treatment will be sent to the prosecutor's office for further investigation.
"Only a small part of the video footage depicting the intimate lives of the citizens will be destroyed, as most of the footage is already destroyed. However, similar footage was found in the remaining files and we believe this material should also be subject to destruction," inspector for protection of personal data, Tamar Kaldani said after the commission meeting on January 29th.
The Ministry of Internal Affairs destroyed 144 files in September 2013, while the remaining material will be destroyed on January 31st, the day when the state commission's term expires.
Executive Director of Transparency International Georgia Eka Gigauri believes the most important goal now is to reveal the individuals who initiated and monitored the process of obtaining and storing illegal video-audio material. She says proper probe on the cases will serve as a preventive measure.
"In the future, if any of the state officials decide to start similar illegal activity, total illegal surveillance, he must be aware that sooner or later he will have to carry responsibility," Gigauri said in her interview with Radio Tavisupleba (Radio Liberty). She recommends that the government carry out an effective investigation and complete it in the shortest period of time.
Members of the state commission also agree that the investigation should be completed before the rest of the footage is destroyed. Director of the Electoral and Political Technologies Research Center Kakha Kakhishvili says the footage of illegal surveillance is evidence that "organized crime" had existed in Georgia for many years.
U.S. ambassador to Georgia, Richard Norland welcomes the fact that in order to protect human rights, the Ministry of Internal Affairs decided to destroy video footage. However, he advises to consider that audio/video footage could become a very important evidence for revealing crime or preventing future cases.