Georgian PM: governmeent to take only constructive steps towards Russia
By Ana Robakidze
Monday, February 3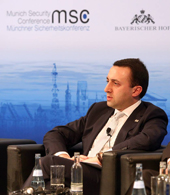 Prime Minister of Georgia Irakli Gharibashvili discussed the resolution of the Russian-Georgian conflict with UN Secretary General, Ban Ki-Moon. The meeting was within the framework of the Munich Security Conference.
According to the PM's press office, "the Georgian side provided the Secretary-General with detailed information about the grave situation in terms of safety and human rights in the occupied regions, which is of particular concern in the occupied regions in absence of international mechanisms."
Special attention was paid to the installation of barbwire and artificial barriers along the occupation line by the Russian occupation forces.
The same issues were discussed at the meeting between the PM and OSCE President Lamberto Zannier. Considering the difficult situation in the conflict regions, and the large number of human rights violations, Gharibashvili and Zannier once again reviewed the possibility of the resumption of the OSCE mission in Georgia and the implementation other projects.
Apart from the meetings with high-ranking officials, Gharibashvili gave a speech at the Global Power and Regional Security session. The PM spoke about Georgian integration into NATO and the European Union, Georgia-Russian relations and also touched upon the latest developments in Ukraine. He said the Munich Conference was an excellent opportunity to inform international society about the progress achieved and plans for the future.
Gharibashvili said 2013 was successful year because of the peaceful transition in the government. However, Georgia still had to live through a difficult period of co-habitation in 2013.
Speaking about the progress Georgia has achieved in approaching the EU membership, the PM said he hoped the Association Agreement is signed in August 2014.
"We did our best to normalize our relations with the Russian Federation... But still we faced some provocations along the occupation line last year," he said. Gharibashvili announced that the government is going to continue its policy and take only constructive step in relations with Russia. He also mentioned that it was hard for the Georgian authorities to make a decision not to boycott the Sochi Olympic Games.
"It was really hard for us to take this decision, because we have this unsolved conflict with our brothers, Abkhazians and South Ossetians," PM said.
Within the framework of the Conference, Gharibashvili had bilateral meetings with Slovakian Foreign Minister Miroslav Lajcak, Croatian President Ivo Josipovic, Serbian Prime Minister Zoran Dindic and other officials.