Approaching Russian-Georgian relations: a parliamentary divide
By Messenger Staff
Tuesday, February 4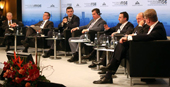 Two parliamentary political entities - the Georgian Dream coalition and the United National Movement continue to confront each other in debates that will ultimately determine the country's policy towards Russia.
The Georgian Dream believe that former President Mikheil Saakashvili's administration carried out a policy of hostility and confrontation with Russia, which eventually brought disastrous results to Georgia.
At the same time, the UNM accuses the Georgian Dream of maintaining a weak, defeatist approach towards Russia because of all the concessions they have granted Moscow.
Such dual assessments were made while evaluating the speech of the Georgian Prime Minister at the recent Munich Security Conference.
Georgian PM Irakli Gharibashvili stated that as soon as his coalition came to power the relations with Russia were radically modified. The result is an improvement in bilateral relations between the two foes, particularly in the spheres of trade and culture.
He mentioned that Moscow is slowly opening its market to Georgian products, and this has brought positive results for Georgia's economy.
However, apart from this, Moscow has not taken any significant steps with regard to the most important issue: the de-occupation of Georgia's breakaway territories, which are now under the control of separatists and the Russian military.
Moreover, Georgia is currently facing more provocations: barbed wire fences have been erected cutting further into Georgian sovereign territory, and border stations have been built across the administrative line between the Georgian mainland and its breakaway territories.
While meeting the Georgian journalists in Munich, the Georgian PM once again repeated that European leaders expressed their discontent with the mode of confrontation exercised by the previous Georgian administration and completely supported the approach of the new government.
The current Georgian leadership tries its best to normalize relations with Moscow. However, it is categorically principled concerning the major issue – the restoration of the country's territorial integrity.
UNM members criticized Gharibashvili because he did not use the Munich forum for highlighting the similarities between the events going on in Ukraine, with what has happened in Georgia. UNM members criticized Gharibashvili for not being more specific in particular about the installation of barbed wire fences.
The failure of Gharibahsvili's appearance according to UNM is the fact that the western media speculated mostly about Ukraine and almost nothing about Georgia. UNM leaders think that the Georgian Prime Minister should have been more upfront about the conflicts between Georgia and Russia and over the Georgia's occupied territories.
The Georgian Dream administration underlines that its attitude towards Russia is principled, categorical and consistent. The essence of such an approach is the commitment of the Georgian Dream coalition to the idea of the country's territorial integrity.
No leadership of Georgia and not a single citizen will accept the occupation of Georgian territory and the Kremlin will not force Georgia to change its European choice.