TBC Bank Launches Financial Literacy Project
Friday, Febraury 7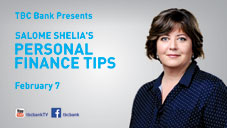 A new face has emerged on social networks. Salome Shelia, the author of the new project of TBC Bank. Over 4,000 viewers have seen Salome Shelia's promo video in one day alone. If you have not watched the video yet, we encourage you to watch it on Youtube or TBC Bank's Facebook page. The title of the video is
Salome Shelia's Personal Finance Tips
Until then, we would like to share with you more details about the project.
TBC Bank is launching one of the most innovative projects in the banking sector named The project, entitled
Salome Shelia's Personal Finance Tips
, aims to deliver useful financial advice to the public.
The management of personal financial resources, careful spending and saving… These are the issues that we come across in our everyday life. However, when seeking sound financial advice, we often do not know who to turn to for advice.
From now on Salome Shelia is your personal financial advisor, and through short interesting video clips, she will try to
provide you with necessary advice on how to meet your daily needs and plan your future the right way.
You may ask: why should I listen or trust a person I have never met or heard of before? Well, Salome Shelia is a manager with extensive experience, a highly qualified business consultant, successful entrepreneur and a personal financial expert.
Before starting her project with TBC Bank, she enjoyed a very successful manager's career in the commercial, public and non-governmental sectors. Salome has long consultation experience in management. From 2006, she was the Head of IMG, a Management Consultation Company, which used to cooperate with well-known companies like Poto Port, Socar, Axis and many others.
Salome Shelia holds an MBA degree in business administration from the Weatherhead Management School of Case Western Reserve University; as well as a master's degree in psychology from Tbilisi State University.
We expect many people to say: Let me have money- there is no need to teach me how to manage it. Shelia however, has her own opinion on this. She says that the less money you have, the better management is needed.
"Let me try to convince listeners that whether you have a lot of money or very little, all money needs to be managed correctly. Nobody's safe from making the wrong financial decisions – this includes both the wealthy and those who live salary to salary. However, the less money you have, the more noticeable the negative effects are after making a poor financial decision," Shelia explains.
Shelia has already recorded her first video blog, which will be available on social media starting February 7. The video can be found on Youtube and TBC Bank's Facebook page.
"We all seek a peaceful and happy life, and money is an inseparable aspect of our lives. Our wealth, like it or not, affects our life, so we are better-off managing our money rather than letting our money manage us," this is the philosophy carried by Salome Shelia's project.
Issues that she is considering, studying, processing and offering to customers as guidelines, come from everyone's daily living and this is why TBC Bank is confident that Salome's communication with cthe ustomers is going to be one of the most efficient ways to help them make the right decisions.
Thus, all who are concerned about their financial situation should participate in this greatly useful project.