Putin-Margvelashvili meeting: reality or fantasy?
By Messenger Staff
Monday, February 10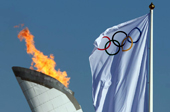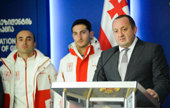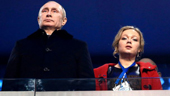 Vladimir Peskov, the Press Secretary of the Russian President, spoke about the possibility of a meeting between Vladimir Putin and Georgian President Giorgi Margvelashvili during the Sochi Olympic Games.
This was sensational news. Tbilisi immediately denied this information. However, even if Peskov made a deliberate or accidental leakage of information, this step revealed the Russian willingness to arrange such a meeting. Now it is the Georgian turn to make its step.
Before his inauguration as a president Giorgi Margvelashvili mentioned about the possibility of his visit to Sochi. However, on December 2, 2013, Georgian Prime Minister Irakli Gharibashvili announced that Georgia was not going to send a governmental delegation to the Sochi Olympic Games.
Peskov's statement was immediately answered by the Georgian President's press office. Margvelashvili's spokesperson Tinatin Mzhavanadze denied the possibility of the Georgian President traveling to Sochi to meet with his Russian counterpart.
Margvelashvili's adviser for international issues, Vano Machavariani, as well as the Ministry of Foreign Affairs, reiterated that the Georgian president, as well as any official representatives of the Georgian government, did not plan to travel and meet anybody in Sochi.
Political analyst Soso Tsiskarishvili suggested that maybe Peskov confused the country's president with the President of the National Olympic Committee of Georgia who is currently in Sochi. But this is unlikely. Besides, everybody is aware that under the current conditions of relations between the two countries, a person of such a high position would not have made a mistake like that.
Peskov's statement, however, put the issue of preconditions of a possible high-level meeting between Georgia and Russia. But a meeting like this requires much preparation. For instance, there is no diplomatic relations between Georgia and its northern neighbor. Georgia is also principled in its demand that Russia recalls its recognition of Georgia's breakaway regions as independent states. However, Russia categorically refuses to do so.
In two weeks' time, the Sochi Olympic Games will be over. Analysts are almost unanimous that Moscow will definitely get involved more energetically in the affairs in Ukraine and presumably these moves will directly or indirectly affect Georgian –Russian relations.
It is well known that the Kremlin is against Georgia's signing of the EU Association Membership Agreement to say nothing about Georgia's aspiration to join NATO.
So, the magic triangular is here: Georgia, Russia, and the West.