US Congressmen hope NATO enlargement will become a priority in 2014
By Ana Robakidze
Tuesday, February 11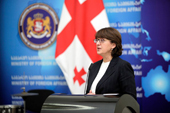 A group of US Congressmen addressed US Secretary of State John Kerry with a query to support Georgia's future NATO membership at the Summit 2014 and grant the country the Membership Action Plan (MAP).
The US Congressmen asked for their support for Montenegro and Macedonia to join NATO at this year's Summit to promote the progress of Bosnia and Herzegovina in the process of implementing the NATO Membership Action Plan and to grant Georgia the MAP.
It is noted in the letter that a number of Eastern European countries have achieved significant success over the past decades and they have become close partners to NATO and the U.S. According to the letter, NATO will prompt the strengthening of democratic institutions, establishment of democratic values and greater stability and security in the partner countries.
The congressmen fear the recent developments in Ukraine may be sign of possible future pressure on other Eastern Partners and they believe the primary goal for the NATO summit 2014 should be enlargement of the alliance. The statement says that as a result of joint efforts, often by the leadership of NATO, many initiatives and reforms were carried out, triggering significant economic growth, the creation of accountable governance and rule of law for millions of Europeans. NATO, as an alliance and collective security system, became the guarantor of stability in the regions for the last two decades.
Foreign Minister of Georgia Maia Panjikidze said the letter addressed to Secretary Kerry is a demonstration of a great support to the new government in Georgia.
The minister said Georgia is in possession of very powerful tools, the Annual National Plan and NATO-Georgian Commission.
"The Prime Minister of Georgia attended the latest session of the NATO-Georgian Commission and it was a very successful meeting," Panjikidze said. She also added that the government is looking forward to the upcoming NATO Summit and has many expectations and continues holding various bilateral and multilateral meetings with high-ranking officials from Europe and U.S.
"We expect that the progress Georgia has achieved will be acknowledged at the Summit," Panjikidze said.
According to the Georgian Ministry of Foreign Affairs, 42 congressmen signed the document addressed to the US Secretary of State.