NGOs and opposition demand change in election code
By Messenger Staff
Tuesday, February 11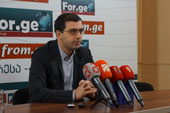 The parliamentary and non-parliamentary opposition, as well as the non-government organizations who have been working within the inter-factional group over the election code left the negotiations on February 5 in protest.
According to them, the current Georgian administration seems to be against the introduction of essential changes in the election code. The acting code was adopted during the United National Movementís governance and it guarantees considerable advantage to the leading political force.
Just before the self-governmental elections begin that are scheduled for later this year, special amendments need to be introduced to the election code, which according to the opposition, is non-democratic and creates a non-competitive environment.
Accordingly, the amendments suggested by the parliamentary majority do not guarantee the creation of a fair environment for all the players and ensures much advantage to the government. The opposition thinks that the election environment has become worse.
As such, the opposition demands several democratic changes in the election code, including the creation of a 50% threshold for electing mayors and the heads of municipalities (Gamgebeli) as well as the creation of a direct election system.
The opposition reminded the Georgian Dream coalition that in 2011 while in opposition, the latter demanded the same as the opposition is asking now.
The leader of Free Georgia Kakha Kukava stated that the government plans to manipulate the elections. Other oppositional parties like the Christian Democrats, as well as some other parties claim the same.
The opposition reminds the administration that before the last parliamentary elections in 2012, the Georgian Dream was promoting the idea of distributing biometrical ID cards. Then leader Bidzina Ivanishvili was ready to finance this step. However, currently the introduction of biometrical IDs is not on the state agenda. Thus, the opposition claims that the current administration is happy with the privileges and comfortable position.
Analysts do not hold unanimous positions regarding the results of the current developments. Whether the Georgian Dream will make any concessions is unknown. The current situation almost guarantees the victory of the Georgian Dream in the coming elections, whereas the introduction of the new amendments will significantly diminish their chances and will create precondition for a fierce election battle.
Some would like to postpone the self-governmental elections from spring to autumn to have time for introducing all the necessary amendments. However, no final decision has been made as of yet.