Crisis in Kutaisi government
By Ana Robakidze
Friday, February 14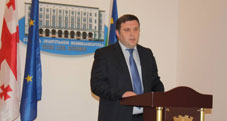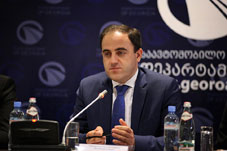 Acting Kutaisi Mayor Niko Kachkachishvili called a special press conference on February 13th and announced his refusal to take office and fulfill his duties. The Head of Kutaisi City Council, Tamaz Margvelashvili, appointed Kachkachishvili at the Mayor's post on February 12th, after making a decision to remove Mayor Shota Murghulia from the post.
Kachkachishvili said he refuses to be a part of political speculations. Therefore, Kutaisi is now left without a mayor and the City Council will have to convene as soon as possible to fix the situation.
The situation in the city municipality has sparked protests in Kutaisi and a rally was held in front of Kutaisi City Hall. Protesters gathered to support the former Mayor Murghulia and demand the resignation of the head of the City Council.
Davit Narmania, Minister of Regional Development and Infrastructure, slammed the dismissal of the former Mayor of Kutaisi. The Minister said the decision is illegal and incompatible with procedural law. According to Narmania, the Mayor was dismissed due to political speculations between small groups, trying to take control over the city governance.
"This is a problem with small groups in Kutaisi, who have ambitions to take part in the city governance. I should say that the decision made by the Head of the Kutaisi City Council contradicts the law," Narmania said calling it an illegal decision, which is incompatible with moral norms as well. "This is a wrong decision, which affects the city and its residents," he added.
Commenting on the situation in the Mayor's office, Tamaz Margvelashvili said that he did not expect that Kachkachishvili would refuse to take the Mayor's post and believes he was forced to do so. "Obviously he (Kachkachishvili) was put under pressure last night," Margvelashvili said in his TV interview.
Members of the City Council and local NGOs strongly oppose Margvelashvili and threaten to organize a boycott of the assembly in the case former Mayor Murghulia is not brought back to his post.
Several Members of the Council believe Margvelashvili must be dismissed. They have sent an official request to the Council, demanding an extraordinary session to be arranged.
According to Margvelashvili, he is going to follow the law and the issues of his resignation will be discussed at the extraordinary session of the City Council, set for February 18th.