Controversial ex-OSCE official appointed as EUMM deputy head
By Ana Robakidze
Monday, February 17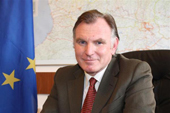 Ryan Grist, who served as deputy head of OSCE mission in Georgia during the August War in 2008, has been appointed as a deputy head of the European Union Monitoring Mission (EUMM) in Georgia. However, this decision has sparked controversy because of Grist's statements made back in 2008, when he accused the Georgian side in starting the war in the region.
On August 12th 2008, during the hostilities between the Georgian-Russian armies, Grist made an unauthorized trip to Tskhinvali. Also, in number of his interviews Grist accused Georgia in a disproportionate attack on Tskhinvali and starting the August war. His unauthorized activities were condemned by the OSCE and Grist was dismissed from his post.
Later in defense of his accusations against Georgia, Grist said he never denied the country had faced provocations from the South Ossetians. However, he believed the response from the Georgian authorities was absolutely disproportionate. He also claimed that he had tried to warn the OSCE that Georgia would probably start hostilities in the region, but his warnings were ignored, so after the hostilities broke out he decided to visit Tskhinvali and find out about the situation locally.
Grist, who was numerously accused in working on Russian Secret Forces, left Georgia briefly after the August War and now is back as a deputy head of the EUMM. His appointment was immediately condemned by the United National Movement (UNM).
"There is a reasonable suspicion that this person was cooperating with the Russian secret services. Of course we believe that the EUMM is an important instrument for Georgia and it plays a very important role for Georgia's security, but we call on the Georgian authorities to use all the means at their disposal to ensure that Mr. Grist leaves not only the EUMM, but Georgia too," Zurab Japaridze from the UNM said.
A special petition opposing Grist's arrival in Tbilisi was released by the members of the civil society community Iveria, uniting Georgian diplomats and former state officials. The petition has received over one thousand signatures so far. Many members of the UNM, including Nika Rurua, Gia Japaridze, Zurab Chiaberashvili, former Minister of Foreign Affairs, Grigol Vashadze are among the signatories. They all call on the Georgian government and particularly the Ministry of Foreign Affairs to make sure Grist leaves the country as soon as possible.
In defense of the EU decision, head of the EUMM, Toivo Klaar said in his TV interview that Grist, who has a very solid background in working with international missions, was recruited as a result of a very thorough vetting process.
Considering the high social interest, the Ministry of Foreign Affairs decided to start consultations with the EU office. Meetings were held in offices in Tbilisi and Brussels. However, the ministry has not made any public statement so far.