Gharibashvili proposes 50% threshold for Electing Mayors and heads of municipalities
By Ana Robakidze
Wednesday, February 19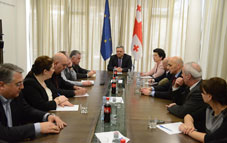 Prime Minister of Georgia, Irakli Gharibashvili proposed to increase minimal threshold in the local elections to 50%, so that the mayors of self-governed cities and heads of all the municipalities will have to receive 50% +1 vote in the first round of elections.
The draft amendments have already passed the second reading in the parliament, but it is going to be revised once again, as Georgian Dream lawmakers agreed to support Gharibashvili's initiative.
The PM's initiative has caused quite a controversy. Increasing the election barrier to the 50% threshold was one of the major demands of a number of civil society organizations and non-parliamentary opposition parties. However, until now, several members of the Georgian Dream were against increasing the threshold. They believed that a higher threshold would increase the chances of second round runoffs, which will cause additional financial expenses from the state budget.
According to the Georgian Dream lawmaker Zviad Dzidziguri, the party held intense consultations before making the final decision about supporting the increased threshold. Dzidziguri also said that the government is ready to organize second round runoffs, if it becomes necessary.
Speaker of the Parliament, Davit Usupashvili met the non-parliamentary opposition parties to discuss the amendments in the election code.
The parties have welcomed the PM's initiative. However, the opposition party representatives say setting a minimal 50% threshold is not enough for improving the overall election environment in Georgia. The non-parliamentary opposition believes that even the amended code will not provide them with equal opportunities with the parliamentary parties.
"We welcome the fact that the government acknowledged its mistake and the 50% threshold will be set. Though, we would like the government to realize that the single mandate electoral districts are wrong and must be changed. I believe that the government still tries to preserve the current election system," Levan Vepkhvadze, from Christian Democrats said after the meeting with Usupashvili.
The PM is not surprised that the parties are not completely satisfied with the draft and said the government has carried out serious reforms in the election system to provide both parliamentary and non-parliamentary parties with equal opportunities in the elections.
"Our election policy is completely transparent...and it is a sign that we are establishing real democracy in this country," the PM said. He also added that increasing the minimal threshold in the local elections to 50% votes is a "revolutionary" decision.