U.S. Secretary of State calls to support Georgia's Euro-Atlantic vision
By Ana Robakidze
Friday, February 28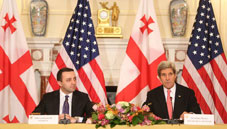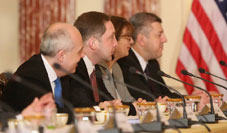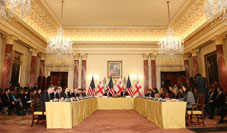 U.S. Secretary of State John Kerry announced "additional assistance by the United States to help support Georgia's European and Euro-Atlantic vision specifically to help Georgia achieve visa-free travel with the EU and to mitigate the hardships caused by borderisation along the occupied territories."
The Secretary of State spoke at the fourth plenary session of the U.S.-Georgian Strategic Partnership Commission he opened together with the Georgian Prime Minister Irakli Gharibashvili.
The session was held on February 26th, right after the bilateral meeting of Gharibashvili and Kerry.
The Secretary of State said he had a very good meeting with the PM and the two managed to discuss a wide range of issues, including economic and external challenges in Georgia.
Speaking at the plenary session, Kerry announced that the U.S fully supported Georgia's European aspiration and encouraged Georgia to sign the association agreement, together with its deep and comprehensive free trade component.
"We do not make that urging for the signing that Association (Agreement) some sort of zero-sum game between the East and West, between us or any other party. We simply want people to be able to exercise their freedom of choice and be able to maximize their economic opportunities and that does not mean that it can't also involve engagement with others," Kerry said.
Kerry praised Georgia's progress in establishing democracy and hailed transparency and the openness of the presidential election in 2013. He urged the Georgian government to continue with the implementation of reforms and progress in the field of economy and promised U.S. support in strengthening trade and investments with Georgia.
Speaking about Georgia's future as a NATO member, U.S. Secretary of State said "the United States will work to make sure that Georgia's progress is acknowledged by all members at this year's NATO summit."
PM Gharibashvili thanked the U.S. for its strong partnership spirit and said Georgia attaches critical importance to its relations with the U.S. The PM said the countries have many common interests and have already achieved significant success in all spheres of bilateral cooperation, especially in defense and security.
"Your support provides a powerful stimulus to our resolve to persist in the often uphill but honorable task of strengthening democracy, especially in our challenging region and especially when more than 20% of Georgian territory remains under Russian occupation," Gharibashvili said. He expressed his confidence that Georgian-U.S. relations will further progress.
PM Gharibashvili ends his official visit to the U.S on February 28th. Within the framework of his first visit to the U.S. the PM met with high-ranking officials and business representatives in Washington.
According to the PM's press center, Gharibashvili informed the American businessmen that Georgia, apart from a favorable political environment, offers the best public services throughout the region, a simple tax system and rapidly developing infrastructure, guarantees for property, copyright and intellectual property protection, access to a free and independent judiciary system, an effective financial system, a transparent legal environment and macroeconomic stability.
Gharibashvili invited the business representatives to visit the country and check the business environment on location.