ICC Georgia opens new office in Batumi
Monday, March 3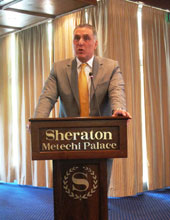 ICC Georgia opened a new office in Batumi. The new office has been in high demand from businesses in Adjara and it offers direct access to the services from ICC Georgia. On February 28, the Chairman of ICC Georgia, Fady Asly, hosted a presentation followed by a social event.
The new office is collocated with the office of the International Investors Association. Osman Chalishkhan-Mjavanadze, who is one of the members of the Board of Directors of ICC Georgia, will be the senior representative at the new location.
"This is a positive step for Georgian businesses not only for Adjara but for the whole country, Adjara is a very important destination for investors from all over the world and the presence of ICC in Adjara will help them integrate very easily into the business life of the country," Asly said.