PM Gharibashvili receives a letter from US President
By Ana Robakidze
Wednesday, March 12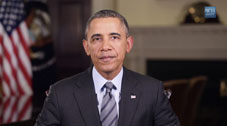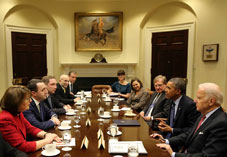 US President Barak Obama hopes he will have a chance to meet Georgian Prime Minister Irakli Garibashvili at the third Nuclear Security Summit in The Hague later in March.
In a letter PM Gharibashvili received from the US President, Obama says that maintenance of nuclear security is very important for the world and the countries are expected to contribute to it.
"As we prepare for the Hague Summit, I would like to encourage your continued support to make the global nuclear security architecture as strong as possible." President Obama says in the letter.
He believes that Georgia has helped avoid a terrorist nuclear attack by the ratification of two important legal instruments – the Amended Convention on the Physical Protection of Nuclear Materials and Facilities, and the International Convention on the Suppression of Acts of Nuclear Terrorism.
Obama expressed his hope to cooperate with the Georgian government to ensure other international actors, such as the International Atomic Energy Agency, are strengthened to carry forward the nuclear security mission as it grows.
"I believe we should use The Hague Summit to identify new steps we can take together to strengthen nuclear security globally," Obama said.
The US President says that countries have to cooperate intensively to ensure nuclear security, as the world is "reminded almost daily of the ongoing threat of terrorism."
"I want to acknowledge your work on radioactive sources. I was pleased to hear that you have established a national registry for sources in cooperation with our Nuclear Regulatory Commission. We especially appreciate Georgia's partnership in efforts to thwart nuclear smuggling in your region," Obama says in his letter sent to PM Gharibashvili.
The US President hopes the summit countries will be able to identify new steps to lead the world to better nuclear security.
Georgia's State Minister on European and Euro-Atlantic Integration, Alexi Petriashvili, commented on Obama's letter and said Georgia-US relations have become very dynamic and The Hague Summit will present additional opportunity to the parties to continue negotiations.
The Hague Nuclear Summit will be held March 24-25. It will be the third event. The inaugural nuclear security summit took place in Washington in April 2010 and was hosted by President Obama and the second summit was held in Seoul in 2012.
PM Gharibashvili will be accompanied to The Hague by Foreign Minister Maia Panjikidze and Minister of Environment Protection Khatuna Gogaladze.