Referendum in Crimea and the Caucasus
By Messenger Staff
Monday, March 17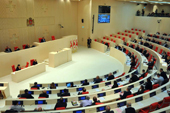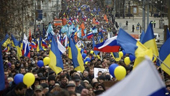 The events in Crimean events will cause far-reaching consequences around the world, especially with regard to developments in the Caucasus region. There are many national entities in the Caucasus and the Crimean precedent might encourage other ethnic communities to follow suit.
On March 6, the parliament of Georgia adopted a resolution supporting Ukrainian sovereignty and territorial integrity, though the two political entities represented in the parliament could not achieve a consensus with regard to the final text of the resolution.
The UNM insisted on mentioning the issue of de-occupying Georgina territory. However, the Georgian Dream version of the resolution was adopted. It labeled Russian conduct as aggressive, stating that Georgia's parliament supports the European choice of Ukrainian people, its sovereignty and territorial integrity. Georgia condemns the Russian use of force against Ukraine, saying that it violates the essential principles and bilateral agreements of international law.
Azerbaijan also discussed the issue in its parliamentary session on March 4. Ukrainian events were labeled as occupation. However, in the final draft it was said that Russia and Ukraine should decide their problems on their own.
Opposition forces in Azerbaijan have been very active with regard to these developments. Some in the opposition Musavat party even tried to travel to Ukraine. Crimean Tatars have also asked the Azerbaijani people for assistance.
Yerevan has limited itself concerning the ongoing events by using slogans targeted at maintaining peace. In fact, Yerevan tried to have balance in its position, as to not upset Russia or the West.
Armenia, which supports the separation of the mountainous Kharabakh from Azerbaijan, does not actively support Ukraine and it does not condemn Russia either.
As such, some analysts have speculated on the possibility of resuming the military confrontation aver Kharabakh. It is of course very important what Moscow's position will be.
In fact, Armenia and Azerbaijan as CIS members have to fix their position at the meeting of the foreign ministers of the CIS countries. However, this meeting has been postponed twice so far.
The Crimean crisis and the Western position against Russia has reached a boiling point. It is now unclear where events will lead. Some believe that the Russian position against Ukraine will eventually backfire, as Russia has several dozen national/ethnic minorities that could also use the Crimea precedent to secede.
Russia faces more threats within its borders than any other country in the world, not least of which includes Chechnya, Dagestan and Ingushetia. Thus Russia's meddling in Ukraine could have a very unpleasant consequence for the Russian state.