Georgia offers Afghanistan wider cooperation
By Ana Robakidze
Wednesday, March 19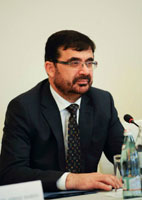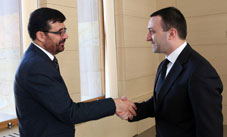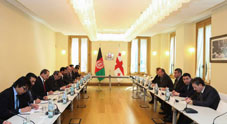 Georgia is ready to share its experience in democratic reform with Afghanistan and continue to support the country after Georgian troops depart. Further relations of the two countries were discussed when Prime Minister of Georgia Irakli Garibashvili met with the Minister of Foreign Affairs of Afghanistan Zarar Ahmad Osmani.
According to the PM's press office Gharibashvili and his guest expressed their willingness to enhance cooperation in economic and transport fields. Georgia is also ready to share its experience in democratic reforms.
The Afghan Minister also had a meeting with Georgina President Giorgi Margvelashvili. The parties discussed the issue of bilateral relations and focused on the enhancement of cooperation in the economic, military and culture spheres.
Margvelashvili expressed his hopes for the upcoming elections of the president in Afghanistan and said he looks forward for a fair and free election process that will further promote the establishment and development of democracy.
Georgia is going to contribute to the security in Afghanistan even after the International Security Assistance Force (ISAF) mission ends. Georgian Defense Minister, Irakli Alasania offered Ahmad Osmani a wide range of cooperation possibilities for the future. The two met on March 17th and agreed to sign a Memorandum of Understanding on Bilateral Defense Cooperation.
According to the Defense Ministry, the ongoing NATO-led international operation in Afghanistan and Georgia's engagement in "Resolute Mission" after 2014 was discussed at the meeting. The ministers also focused on the handover of full security responsibility to the Afghan National Security Forces.
"We have talked about the political situation in Afghanistan in details, the planned elections and how the Georgian military servicemen will interact with the international community and NATO forces. We also discussed the future prospects of bilateral military cooperation but our relationship should not be only limited to military cooperation. We have offered more economical cooperation and Georgia's transit capabilities to our Afghan colleagues for their economical activities. Consequently, the visit was very timely and proper and we promised to continue cooperation with them after ISAF operation as well," Alasania said after the meeting.
The two countries are going to expand their relations beyond the military cooperation.
"We have offered more economic cooperation and Georgia's transit capacities to our Afghan colleagues for their economic activities," the Defense minister said.
Afghanistan Foreign Minister paid a two-day official visit to Tbilisi and thanked Georgian government for the military participation in the ISAF mission and its contribution in the fight against terrorism.