Ukraine asks UN to declare Crimea a demilitarized zone
By Ana Robakidze
Friday, March 21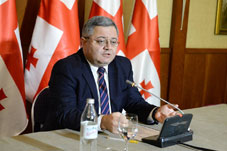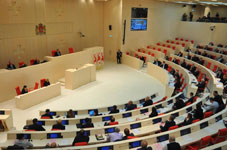 The Georgian government is concerned over the annexation of Crimea by Russia and fears recent developments in Ukraine may affect the stability in the region.
Speaker of the Parliament Davit Usupashvili finds the Russian aggression to be "unimaginable" in the 21st century and believes both Georgia and Ukraine will be able to restore their territorial integrity in the nearest future.
"We are continuing our efforts for the reunification of our country and as it seems this process will be carried out in close link and in parallel to Ukraine's efforts to restore its territorial integrity", Usupashvili said, commenting on Crimea's annexation. President of Georgia Giorgi Margvelashvili also said at the press-conference on March 19th that Russia's activities in Ukraine create great problems in the global security.
"Naturally we remain beside those civilized countries, which believe that issues between the states should be resolved not through taking over territories or through military force, but through diplomatic negotiations." Margvelashvili said.
Ukraine is going to leave the Commonwealth of Independent States (CIS) and introduce a visa regime for Russian citizens. These decisions were made by the Ukrainian interim government as a reply to Russia's incorporation of Crimea into its territory.
According to the National Security and Defense Council chief, Andrey Parubiy, Ukraine is going to ask the UN to declare occupied Crimea a demilitarized zone, similar to the territories that exist in areas surrounding Israel, between Kosovo and Serbia, as well as between North and South Korea. The government is also going to evacuate all of its military personnel and their families from Crimea.
Ban Ki-moon, the UN Secretary-General has already departed for Moscow to meet with President Vladimir Putin, Foreign Minister Sergei Lavrov and other senior officials. On March 21st he will arrive in Kiev to hold talks with Acting President Oleksandr Turchynov and Prime Minister Arseniy Yatsenyuk. He will also meet members of the United Nations Human Rights Monitoring Mission and representatives of civil society.
According to the UN press-office the Secretary-General will visit Moscow and Kiev "as part of his diplomatic efforts to encourage all parties to resolve the current crisis peacefully."
Meanwhile the United States and the European Union are consulting on possible sanctions to impose on Moscow.
President Barak Obama made it clear that the White House is not going to consider any form of military involvement in the Ukrainian crisis. In one of his recent TV interviews Obama said that Washington will pursue diplomatic means.
"There is a better path, but I think even the Ukrainians would acknowledge that for us to engage Russia militarily would not be appropriate and would not be good for Ukraine either," the US President said.
The EU and the US already slapped sanctions on certain Russian individuals that were connected to the unlawful referendum in Crimea.
German Chancellor Angela Merkel said in her recent address to the Parliament that at the March 20th meeting in Brussels, EU leaders would consider increasing those "Level 2" sanctions against Russia. Which means the EU will increase the list of those whose assets are being frozen and who are banned from traveling. According to Merkel, the EU will be forced to move on to "Level 3" and impose economic sanctions on Russia, unless its government stops unlawful activities in Ukraine.