About 15,000 jobs to be created as part of Shah Deniz Stage 2 development
Tuesday, March 25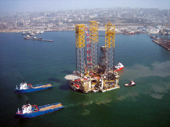 State Oil Company of the Azerbaijan Republic (SOCAR) is actively working on development of advanced welding technologies, which are an important component of the oil and gas sector, SOCAR official Khalik Mammadov said on March 18.
Mammadov, SOCAR's Vice President on Human Resources, Regulations and Information Technologies, made these remarks at a seminar titled 'New technologies and materials in welding industry'.
He said SOCAR subdivisions currently employ over 2,000 welding area professionals.
"Development of this area is important in terms of implementing major projects in Azerbaijan. In particular about 15,000 jobs will be created within Stage 2 development of the Shah Deniz gas and condensate field, some 4,000 or 5,000 jobs of these accounting for specialist welders," Mammadov said.
He also said the experts will play an important role in the construction of a new complex for oil and gas processing and petrochemical production.
Two offshore platforms will be installed and over 20 subsea wells will be drilled as part of Shah Deniz-2 in order to produce an additional 16 billion cubic meters of gas per year.
The forecasts show that the gas production will exceed 24 billion cubic meters per year within the second stage of the field's development.
The reserves of the Shah Deniz field are estimated at 1.2 trillion cubic meters of gas.
The contract for the development of the Shah Deniz offshore field was signed on June 4, 1996.
The agreement's participants include such companies as the SOCAR with a 16.7 percent share, British BP (28.8 percent), Norway's Statoil (15.5 percent), Iran's NICO (10 percent), the French Total (10 percent), Russia's Lukoil (10 percent) and Turkey's TPAO (9 percent).
(Trend)