PM hopes the world will pay attention to security in the Black sea Region
By Ana Robakidze
Wednesday, March 26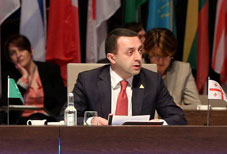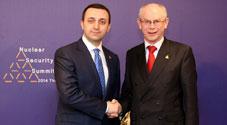 Prime Minister of Georgia Irakli Gharibashvili addressed The Hague Nuclear Summit and said Georgia highly values international peace and security and fully supports the goals of the Summit.
"Since the 2012 Summit, Georgia has stepped-up its efforts to ensure nuclear security and to prevent illicit trafficking and nuclear terrorism in our country, region and worldwide," the PM said. He informed the participants of the summit that with a view to strengthening its security infrastructure, Georgia works closely with the various international organizations and partner countries, and the country continues to be an active contributor to international peace- keeping projects.
The President of the European Council Herman Van Rompuy confirmed at the meeting with Prime Minister Irakli Garibashvili, that he will visit Tbilisi in May.
The two met in The Hague and discussed the European future of Georgia and Ukraine, the EU Monitoring Mission, Geneva Discussions and the importance of the incident prevention and response mechanism format as well. The President of the European Council thanked the Prime Minister of Georgia for Georgia's military involvement in the EU crisis management operation and mentioned that Europe highly rates Georgia's contribution to the provision of international security.
According to the PM's press center, Gharibashvili spoke about the implemented reforms and said the signing the Association Agreement will be historic moment for Georgia, as well as for the European Council, as it will create a new reality in Georgia-EU relations. HE thanked the EU for deciding to sign the Association Agreement with Georgia no later than June, 2014.
"As you know they (the EU officials) have reaffirmed that the signing the agreement will take place in June, but we are talking now about moving the date further forward," PM Garibashvili said after the meeting.
The sides also discussed the implementation of the action plan on visa liberalization. According to the PM, the Georgian government wishes to implement the action plan before the Eastern Partnership Summit 2015.
President of France Francois Hollande, will be another high ranking politician to visit Tbilisi in May. Hollande met PM Gharibashvili in The Hague and the two discussed future cooperation plans between their countries. Particular attention was paid to the role of France in Georgia's European integration processes.
Within the Framework of the Hague Nuclear Summit, Gharibashvili also had meetings with
Lithuanian President Dalia Grybauskaitee, Vice President of Brazil Michel Temer, Interpol Secretary General Ronald Noble and his Dutch counterpart Mark Rutte.
Gharibashvili also had brief meetings with U.S. President Barack Obama and the UN Secretary General Ban Ki-moon. Obama greeted the Prime Minister of Georgia and wished him success at the Nuclear Security Summit.