Another round of Geneva Talks concluded
By Ana Robakidze
Wednesday, March 26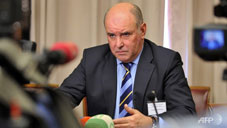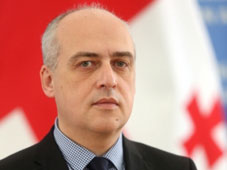 The 27th round of the Geneva Talks took place on March 25-26th. The format of the negotiation was kept the same and the round was again co-chaired by EU, UN and OSCE representatives and negotiations were held by two working groups dealing with security and humanitarian issues.
Antti Turunen, representing the UN at the talks, said the 27th round was held under an active and pragmatic atmosphere and all participants demonstrated their commitment to the process.
The Russian delegation traditionally led by Deputy Foreign Minister Grigory Karasin, once again refused to sign the cease-fire agreement with Georgia. Moscow still claims the agreement has to be signed with Abkhazia and South Ossetia as independent parties.
However, the parties agreed to continue working on a draft statement on the non-use of force and according to the co-chairs certain progress was registered on this matter.
The leader of the Georgian delegation, First Deputy Foreign Minister Davit Zalkaliani, says after Russia's unlawful activities in Ukraine it has become even more important to make Moscow honor the unilateral non-use of force pledge made in 2010.
"Today when we are witnessing a growing assertiveness from Russia in its efforts to prevent neighboring countries from realizing their free foreign policy choices through violating their territorial integrity and sovereignty, the non-use of force… commitment from the Russian side constitutes a minimal mechanism preventing further aggression," Zalkaliani said.
He reiterated with the media that Georgia remains committed to its non-use of force pledge and called for the international community to invest efforts and ensure security in the region.
The Georgian side once again raised the issues of the installation of the barbwire fences along the administrative boundary lines and Russian aircraft flyovers above Georgian-controlled areas, as well as the recent military drill launched by Russians in the Ochamchire district of Abkhazia.
One more issue brought forward by the Georgian side was relating the relocation of the border line between Russia and the occupied region of Abkhazia. Russian border-guards moved the Russian-Georgian border-line 11 kilometers further into the Abkhazian region. Karasin explained that it was done as a temporary measure in order to ensure security during the Sochi Olympic Games.
Another working group of the Geneva talks discussed the issues of missing people, detainees and IDPs. According to the EU representative, Luis Felipe Fernandez de la Pena, the group also reviewed the humanitarian situation in the conflict regions, exchanged views on pragmatic solutions for freedom of movement and opportunities for travel, on cultural heritage and on the supply of irrigation water.
According to Turunen, a number of issues have been addressed that could have an impact on the daily lives of the population.
The next round of the Geneva talks will be held on June 17-18.