New Batumi complex faces demolition for flouting construction rules
Tuesday, April 1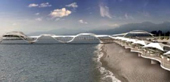 A section of a large hotel and entertainment complex in Batumi might be destroyed as the construction company faces its third punishment for illegal work.
The construction company responsible for the Batumi Pirsi building has already been fined twice for violating construction rules.
Now, International Investors Association Battun Ltd might be forced to demolish the complex's 35 metre bridge that protrudes into the sea, which is connected to the beachside complex.
A representative of Batumi City Hall Supervision Department said this was "wrong and illegal construction" and heavy construction was not permitted to be built on the seaside.
The complex is located in the central part of Batumi Boulevard beach and when complete, will include numerous restaurants selling traditional and exotic cuisine, a pizzeria, bar, a children's entertainment centre. It will also include an area where swimmers and bathers can pay to use the seaside area, as well as clothing and shoe shops.
Despite restrictions surrounding the 35m bridge, the company planned to increase the bridge length to 75metres, with a two-storey hotel on the end, but decided not to.
Head of Batumi's Monitoring Division of Coast Protection Department of Adjara, Temur Metreveli, said they were not against the construction of the Batumi Pirsi but were against the parts of the building that were built of concrete and directly on the beach. These sections "must be destroyed", he said.
International Investors Association Battun Ltd began work on the Batumi Pirsi complex in May 2012. Since then, the company has been fined twice for violating construction regulations.
"For illegal construction, the company was charged by 3,000 Gel in November 2013 and it was given three month period to get a building permit. Three months later, when a license was not provided, an additional fine of 9,000 GEL was imposed. In total, the company paid a 12,000 GEL fine," Metreveli added.
The Batumi Pirsi complex is laid out on a 7,900 square-metre territory. A foreign investor invested four million GEL in the project.
(Agenda.Ge)