Rasmussen warns accession to NATO is a free choice, but it is not a free ride
By Ana Robakidze
Wednesday, April 2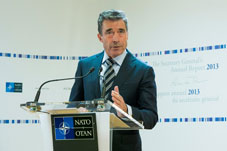 NATO Secretary General, Andres F. Rasmussen questions the very principles upon which modern Europe is built. In his speech at the ceremony to mark NATO Enlargement Anniversaries on April 1st, Rasmussen said that the Crisis in Ukraine shows that Russia undermined the rule of international law and "flouts the principle that every state is sovereign, and free to choose its own fate."
"That is the principle that allowed us to heal the divisions imposed by tyranny after World War II, and to move ever closer to a Europe which is whole, free and at peace. This year we celebrate how much that principle has brought us - but the crisis in Ukraine is a reminder to us all that we must defend that principle. That is what NATO is doing… The right of sovereign states to choose their own course is one of the foundation stones of modern Europe. That principle has stood us in good stead since the day NATO was founded. We must all stand by it today." Secretary General said, speaking at the ceremony held within the framework of the NATO ministerial.
According to Rasmussen the countries which have already chosen to adopt the standards and principles of NATO and the EU gave the strongest possible anchor to their democracies. They "rejoined the family of Western nations. And by taking the pledge to defend and protect NATO, they received the pledge that NATO would defend and protect them."
Rassmussen stated that NATO has not accomplished its task yet and there are still countries which wish to join the Euro-Atlantic organization. He also warned the states that "accession to NATO is a free choice, but it is not a free ride."
The Secretary General promised to Bosnia-Herzegovina, Macedonia, Georgia and Montenegro that NATO will stand by them, as they have expressed strong aspiration to join the alliance, but the countries have to be ready to do the hard work.
"These countries are all working on the necessary reforms. NATO is supporting them. And once they have done all that is needed, we will take the necessary decisions." Rasmussen said.
The Georgian government is ready to take the challenge further and continue reforms on the path to the alliance. However, the government also hopes that the country's achievements will be acknowledged by the alliance accordingly.
State Minister on Euro-Atlantic Integration, Alexi Petriashvili said that repeating of the Bucharest Summit decision will not a satisfying result for Georgia. The government is expecting more from the upcoming summit in the UK.
"A totally new and principal decision has to be made and NATO has been working on it." Petriashvili said.
In June reports on the progress of the aspirant countries will be discussed by the NATO ministers and the state minister hopes Georgia's contribution to the alliance and progress in democracy will be appropriately assessed by the members.
NATO-Georgian relations will be further discussed on April 2nd, at the NATO-Georgia commission session in Brussels.