Chairperson of Foreign Affairs Committee of Estonian Riigikogu at Georgian MoD
Thursday, April 3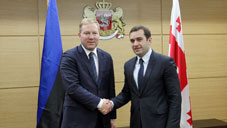 Defence Minister Irakli Alasania hosted Chairman of Foreign Affairs Committee of the Estonian Riigikogu, Marko Mihkelson in the framework of an official visit of Chairpersons of foreign Affairs Committees' of Nordic and Baltic Parliaments.
At the meeting, the sides discussed the ongoing political process in Georgia, Georgia-Estonian bilateral cooperation issues and Georgia's Euro-Atlantic integration prospects. Irakli Alasania delivered information to the representatives of the Estonian legislative body on the progress achieved and future prospects on the path to NATO and EU aspiration. Georgia's contribution to the ISAF mission, as well as its engagement in the Resolute Support mission beyond 2014 and the NRF in 2015, were one of the main topics at the meeting.
"With Estonian MPs we discussed not only bilateral relations, which is on a high level, as well as we referred to the existing situation and security environment in Europe after the Ukrainian circumstances. Georgia has strategic and institutional cooperation with Estonia. Estonia strongly supports Georgia's integration into NATO. Thus, its' very important the representatives of the executive, as well as the legislative bodies have complete information on how Georgia takes steps forward for NATO full membership and how Georgia contributes to Euro-Atlantic security. We have common goals. Cooperation with Estonia and other Baltic countries is one of the priorities for us," stated Irakli Alasania after the meeting.
"It was a very good meeting, as always. Estonia and Georgia have very close relations in different areas, including defence and security issues. Today, in Europe and in our neighborhood, security risks are higher. This friendship and cooperation is even more important. We talked about the current situation in the region, generally in Europe, but also what further steps Georgia should make in terms of aspiration to join NATO. Estonia is strongly supporting Georgia and has for years. It also supports Georgia this particular moment for gaining MAP during the upcoming NATO Summit in Cardiff this year," outlined Chairman of the Foreign Affairs Committee of the Estonian Riigikogu, Marko Mihkelson.
Deputy Defence Minister Mikheil Darchiashvili, the Deputy Chairman of Foreign Affairs Committee of the Estonian Riigikogu, Olev Aarna and Ambassador of Estonia to Georgia, Priit Turk attended the meeting as well.
Within the two-day long visit, the delegation members of Foreign Affairs Committees of the Nordic and Baltic countries held meetings with the representatives of the legislative and executive bodies of Georgia.