U.S. General get acquainted with Wounded Warriors Program
Thursday, April 3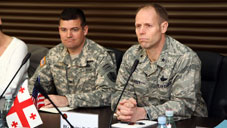 Caring for wounded soldiers is one of the priorities of the Defence Ministry of Georgia. Within the Wounded Warriors program, J4 Director of Logistics of the U.S./ European Command, Brigadier General Blaine D Holt, paid a two-day official visit to Georgia. Deputy Defence Minister Vako Avaliani and Chief of General Staff of GAF, Brigadier General Vakhtang Kapanadze hosted the U.S. General at the Georgia MoD.
The sides discussed the development of the rehabilitation of the Wounded Warriors program. Deputy Defence Minister Vako Avaliani introduced the guests a support program for the Georgian soldiers wounded in the August War of 2008 and the ISAF mission. The wounded soldiers are taking part in the the prosthesis program at Peter Harsch Prosthetics Clinic, in San Diego, California. The Georgian side expressed gratitude to the guests for the U.S. assistance in terms of caring for Georgia's wounded soldiers.
Special attention was paid to the rehabilitation and equipment of the Rehabilitation Center located on Kedia Street, in Tbilisi, carried out with the financial and material support of the US. According to the project, the center will be operational by August 2016. At the meeting, the sides discussed the technical details as well. The program envisages the institutionalization of the treatment and rehabilitation process throughout Georgia.
"Rehabilitation of our military servicemen is a prior issue for the Defence Ministry of Georgia. It's important that our U.S. partner supports us in this respect. The construction work of the Rehabilitation Center is underway. The program is divided into three stages. Wounded Georgian soldiers will undergo a similar rehabilitation course as the military of the United States of America and NATO member countries do," outlined Vako Avaliani.
On the sidelines of the two-day visit to Georgia, the U.S. Brigadier General will visit the NDA, Rehabilitation Center on Kedia Street and Gori Military Hospital and NDA.