Jubilee of I Infantry Brigade
Thursday, April 3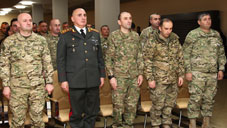 The First Infantry Brigade of GAF mark its 22nd anniversary on April 4. Chief of General Staff of the GAF, Major-General Vakhtang Kapanadze and his Deputy, Colonel Roman Jokhadze congratulated the personnel of the I Brigade on their jubilee.
"This day is very important not only for the First Infantry Brigade, but also for the entire Armed Forces. This Brigade has brought up many successful officers since its foundation. The Brigade combined such units as "Shavnabada", "Avaza" and "White Eagle" Battalions. Many current successful officers started their career in this Brigade" – stated Major-General.
The First Infantry Brigade is one of the largest military units in the Georgian Armed Forces. The personnel of the Brigade have participated in all military operations for the territorial integrity. The military of the First Brigade underwent GTEP and SSOP programs as well and participated in the KFOR, Iraqi Freedom peacekeeping and ISAF international operations. Currently, the Staff of I Infantry Brigade and military servicemen are participating in the Command and Staff multinational training "Viking 2014".