Rasmussen: Georgia is a security exporter and can become a role model for whole region
By Ana Robakidze
Thursday, April 3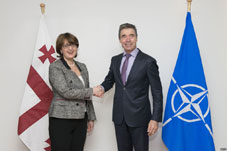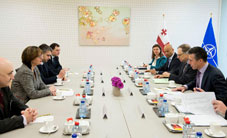 Georgian Foreign Minister, Maia Panjikidze met with her NATO counterparts in the NATO-Georgia Commission on April 2nd. According to the NATO press center, the ministers exchanged their views on Georgia's progress in implementing reforms and on the developments in the country and in the region. They also discussed the crisis in Ukraine. NATO secretary General, Anders Fogh Rasmussen said at the meeting that the freedom of sovereign states to make their own decisions should be respected by all entities.
"At this time, it is more important than ever to stress that the breach of territorial integrity and sovereignty is unacceptable. These nations have the right to make their own free choices, and those choices should be respected by all," the Secretary General said.
The ministers stressed their firm support for Georgia's sovereignty and territorial integrity within its internationally recognized borders and highlighted the continued support for Georgia's Euro-Atlantic aspirations. They also expressed recognition for Georgia's outstanding contribution to NATO operations and to Euro-Atlantic security.
"As a country aspiring to join our alliance, Georgia is a special partner for NATO, and we very much value our political dialogue and practical cooperation…You are the largest non-NATO troop contributor to our mission in Afghanistan. You have committed to contribute to our planned Resolute Support Mission, and we welcome your decision to take part in the NATO Response Force," Rasmussen said. He praised Georgia for the remarkable progress the country has achieved in its "ambitious democratic and defence reforms" and advised to establish constructive cooperation between the government and the opposition.
The secretary general said Georgia has proven itself to be a security exporter and it can become a role model for whole region, "a nation that provides security and stability, a nation that is undertaking real reforms and reaping real dividends, and a nation that is on track to deliver on its sovereign choice of European and Euro-Atlantic integration."
According to the Georgia foreign minister, NATO members have clearly expressed in Brussels that Georgia has made significant achievements.
Apart from the NATO-Georgian commission session, Panjikidze also participated in the ISAF session as a representative of the largest non-member contributor country and had a number of bilateral meetings with her counterparts. She met with the foreign ministers from the UK and the Czech Republic.