NATO Week continues in Tbilisi
By Ana Robakidze
Wednesday, April 9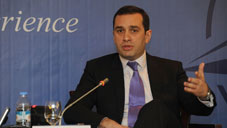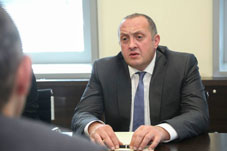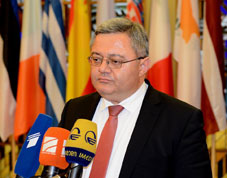 Georgian Defence Minister, Irakli Alasania delivered a speech at the second panel of the conference "Georgia on the Way to NATO Integration, Preparation for the Upcoming 2014 NATO Summit", which took place within the framework of NATO Week in Georgia.
The minister informed the guests on the reforms recently implemented within the armed forces of Georgia. He stressed the importance of Georgia`s involvement in international peacekeeping missions and also outlined that Georgia expects a lot from the upcoming NATO Summit in the UK.
"Everybody recognizes that Georgia is in a position to be offered the new instruments of integration. In addition, multilateral military-diplomatic work is planned for the coming months, including in June, in order to achieve the goals. More importantly, certain trends have been defined over which we will have a dialogue with our partner countries as well as with NATO representatives. I also want to mention that final Defence Reforms Assessment Document is due to be published by June of current year which should become the basis for our advancement at the NATO Summit," Alasania said.
The minister also had a bilateral meeting with NATO Assistant Secretary General for Public Diplomacy Kolinda Grabar-Kitarovic.
On the second day of the NATO week, President of Georgia Giorgi Margvelashvili met the Adviser of the Euro-Atlantic Council, the President of the Atlantic Club Bulgaria, Solomon Passy. The meeting was held at the President's Palace. The National Security Secretary, Irine Imerlishvili, the Head of the President's Administration, Lasha Abashidze and the President's Adviser for Foreign Relations, Ivane Machavariani, also participated in the meeting
According to the president's press center, the parties discussed the issues facing Georgia's NATO integration process and ways to establish closer ties between the Alliance and Georgia, the progress that has been achieved in this direction and the prospects Georgia has for the upcoming summit in the United Kingdom.
The parties have also reviewed the situation in the region, Russia's actions and the current developments in Ukraine.
NATO Week is held in Georgia under the organizational support of Information Center on NATO and European Union. The event will be closed on 16th of April.
* * *
Georgian integration with NATO was one of the main topics Parliament Speaker Davit Usupashvili touched upon in his speech at EaP Partnership Inter-Parliamentary Cooperation Session.
Usupashvili stressed the importance of NATO-Georgian relations and said that Georgia may disappear from the world map if it does not receive alliance membership. The speaker said that every step Georgia takes towards NATO is accompanied by a great threat from Russia. Georgia risks a lot, therefore, the country does not know what steps will be taken by the international community, in the case Georgia becomes a target of Russian aggression.