Campaign concert "We Choose Europe" held in Tbilisi
By Ana Robakidze
Tuesday, April 15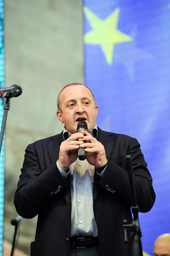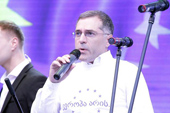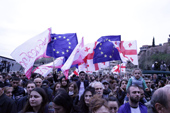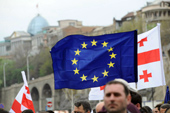 A peaceful rally and a concert was held at Europe Square in Tbilisi on Sunday to support the country's foreign policy and its choice to join the European Union. High ranking state officials, including President Giorgi Margvelashvili, Deputy Foreign Minister Davit Zalkaliani, Minister of Euro Integration Alexi Petriashvili, as well as MPs from the parliamentary majority and minority joined the event.
Margvelashvili addressed the crowd and spoke about the importance of Georgia's European integration. He reaffirmed Georgia's aspirations towards European structures.
"I am happy to stand here beside you at such an important occasion. This great assembly is led by the healthiest power – civil society. All of us here today are united for a bright goal, which is not just the choice of some political union, neither is it the choice of any politician or a state official. This is not the choice made only by us, this is the choice made by our ancestors, who created this free country – Georgia, who built the freedom… freedom of soul, acceptance of others, tolerance, as the basis of Georgian culture," Margvelashvili said. He added that the people had gathered to support the choice which will promote the country's prosperity.
Ambassador of the EU to Georgia, Philip Dimitrov, also attended the event. In his address to the crowd, Dimitrov said Georgia will sign the Association Agreement with the EU in a few months.
You will have the freedom of movement of goods, of services and capital…We are working hard now so that soon after that you can have the fourth freedom – the freedom of movement of people," the ambassador said, and asked Georgians to do everything for joining the EU.
The campaign concert was organized by the Civil Society Forum National Platform of Georgia, which unites over 100 non-governmental organizations.
"More than a hundred non-governmental organizations have joined forces in the Georgian National Platform in support of the European idea. We choose Europe, join us!" the organizers of the event posted in a special Facebook page, stressing that they "invite everybody who supports Georgia's European choice and would like to see Georgia become a full member of the European family."
"Every citizen of Georgia should have a position on this issue. We encourage everyone, regardless of their political beliefs, to come together around this idea," they stated.
Chairman of the Liberal Academy and one of the organizers of the event, Lasha Tughushi, said it had been decided to have music at the event as culture usually is the best way for self-expression.
"With this music, we told everyone that we need to be in Europe and become part of it, and that Europe is our home," he said.
Lashari, Tbilisi Big Band, Gio Sukhitashvili, Mariko Ebralidze, Aleko Berdzenishvili, Gordela, Z for Zulu, Tinatini, Ara, Eldrine, The Jetbird, LOUDspeakers and KID Jesus performed at the event.