Patriarch addresses family values during Easter Epistle
By Ana Robakidze
Tuesday, April 22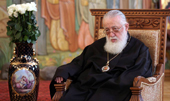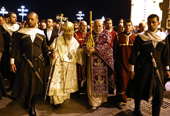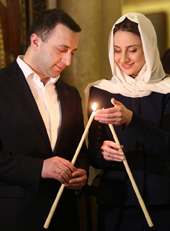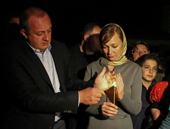 Patriarch of Georgia Ilia II calls to avoid pseudo liberalism and protect moral values, faith and Christianity. In his Easter epistle, the patriarch said that life in the modern world is really difficult and full of temptation.
According to Ilia II, the times have changed a lot.
"Contemporary pseudo-liberalism wants to destroy the notion of sin. They (pseudo-liberals) think the perception of a sin 'binds' people and deprives them of freedom. That is why they want to destroy moral values. They are attacking not only religious commandments, but in general, common human values as well," the epistle says.
Patriarch regrets that Georgians are witnessing an overall decline in various fields and also increased facts of betrayal, selfish attitudes, refusal to attend to family commitments, and indifference. "All this leads to serious disruption in the spiritual world," the epistle says.
Ilia II called on the Georgian people to stay strong in these hard times. "Our people had to suffer a lot in recent years," the patriarch said in the epistle.
He also spoke about family values and the way the new generations should be brought-up. Parents should be an example for their children and they should do everything possible to bring-up physically healthy and intelligent generation, he said.
Ilia II underlined the negative aspects of parents' exaggerated care, and also focused on the importance of reading culture in the modern era, analytical thinking and proper education.
"Our youth should read religious and classic literature, as well as history, psychological and natural science books. Otherwise, they will be narrow-minded and will struggle to make the correct choices."
"We should not mix protection of dignity with ambition, self-defense with violence, telling truth with judgment, exposure with denouncement and patience with weakness. It is impossible to stay indifferent towards your enemies and not to defend your country's past and future, both verbally as well as physically," the patriarch said, adding that pseudo-liberalism as well as extremism, which usually leads to fanaticism are unacceptable, as both are a deviation from truth.
The Epistle was read by archimandrite Demetre Davitashvili at the Cathedral of Holly Trinity in Tbilisi, where Ilia II held the Easter liturgy. Georgian Prime Minister Irakli Gharibashvili, together with his wife and members of the cabinet also joined the hundreds who attended the liturgy at the cathedral.