Non-parliamentary opposition fail to unite
By Messenger Staff
Tuesday, April 22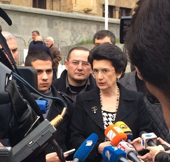 The local self-government elections in Georgia will be held on June 15, 2014. However, the non-parliamentary parties were unable to unite and submit a joint list of candidates for the upcoming elections. In fact, three small amalgamations have already appeared in the non-parliamentary opposition. This fact considerably diminishes the chances of the non-parliamentary opposition of placing their members in the local self-governance system.
Many of the non-parliamentary opposition members have made statements saying that unification is vitally important for them, and while uniting they should forget about the various ideological issues, not paying much attention to their leftist or rightist direction or orientation in foreign relations.
Of course, there was one essential obstacle: the political forces with pro-Russian and pro-western orientation could not possibly unite.
The pro-western political forces managed to reach a kind of alliance called the Euro-Atlantic Choice, which consists of seven non-parliamentary political entities – For Fair Georgia, National Democratic Party, Civil Alliance for Freedom (Chaired by the former Head of the Central Election Commission Zurab Kharatishvili), Christian-Democratic Party, Ilia Tchavtchavadze Society, Women's Party, and the Merab Kostava Society.
The coalition plans to facilitate the Euro-Atlantic integration of the country and to implement high ethical standards in Georgian politics. This alliance has a political council as a governing body, consisting of two members from each political entity. The chairperson of the party is a member of the National Democratic Party, Bachuki Kardava.
This alliance will compete with the parliamentary opposition United National Movement in addressing the voters, as their main incentive is Western orientation.
The unification has become more difficult among the pro-Russian oriented political entities. These mainly include the two political parties headed by Nino Burjanadze and Kakha Kukava.
These two leaders in fact could not negotiate over a common stand. As they say, the leader of the Democratic Movement – United Georgia, Nino Burjanadze, wanted to keep leading any political amalgamation and absorb other parties under her team. She insisted that other parties would become part of her political power.
The Christian-Democratic Movement and the Georgian Troupe have agreed to merge into Burjanadze's coalition, as well as the New Rights. This step was strange because the New Rights initially were Western-oriented, so their alliance with Burjanadze was a surprise.
It should be mentioned that Burjanadze's and Kukava's individualist position damage the principles of Russian orientation, and it might cause confusion among the voters. Even the names can mislead the electorate. Burjanadze called her coalition the United Opposition, whereas Kukava called his team the Non-parliamentary Opposition.
Neither of these amalgamations represent the total spectrum of the oppositional parties. There are around 50 days left before the elections and certain changes might appear, although the major configuration is already visible.