Thomas O. Melia visits Tbilisi
By Ana Robakidze
Thursday, April 24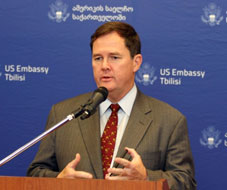 The U.S. Deputy Assistant Secretary of State in the Bureau of Democracy, Human Rights and Labor, Thomas O. Melia, is visiting Tbilisi.
Melia held a meeting with representatives of the non-governmental sector to discuss forthcoming local-self governance elections, foreign challenges, and domestic affairs. He also met media experts. The main topics of the meeting were media freedom and problems around the Georgian Public Broadcaster.
Melia was particularly interested in the election environment. The Chairman of the Georgian Young Lawyers' Association (GYLA), Kakha Kojoridze, said after the meeting with Melia that the U.S. official was informed about the positive as well as negative changes in the election environment and law.
Georgian NGOs also focused on amendments to the law on civil service, which will suspend the authority of 13,000 state officials as soon as the self-governance election is held.
Representatives of Transparency International Georgia, focused on issues related to law enforcement institutions in the country.
"We all agree that law enforcement bodies are in need of urgent reforms. It is essential that the Prosecutor's Office, as well as the Ministry of Internal Affairs, undergo serious reforms." Chairman of the TI Georgia, Eka Gigauri said after the meeting with Melia.
Melia and his delegation refrained from voicing their own opinion on the issues, based on the format of the meeting they only received information from the representatives of the non-governmental sector.
The U.S official said after his meeting that his country remains to be a loyal partner to Georgia and regular visits of various state officials from the U.S. is a proof of strong relations between the two countries. Melia said Georgia must become a stable, successful, democratic and economically stable country and the U.S. will support the country in this process.
Within the framework of his three day visit to Tbilisi, Melia will hold meetings with representatives from the government and the legislature.