Business and politics in Georgian parliament
By Messenger Staff
Monday, April 28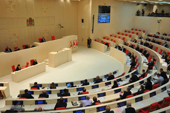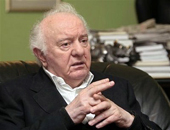 There are not many discussions on the interaction of politics and business in Georgia. Whatever is being speculated about is of a scandalous character mostly.
The recent research carried out by the Transparency International Georgia has confirmed that business interests of parliamentarians still exist in the current political environment in Georgia.
Today, post-Soviet states often fight the temptation to combine business and politics. In fact, many people who went into politics, soon gained influence, and then began taking part in illegal business activities.
Sometimes they used their high positions as cover, lobbying for favorable legislation in parliament to promote businesses in which their 'relatives' had shares. However, in reality, these shares belonged to the MPs.
In Georgia, people go into politics to become rich, whereas in the US and other Western countries, politicians are already rich when they go into politics.
Most of the MPs in Georgia become rich after they make their political career and later leave the politics altogether. Multiple precedents can be observed where the property of those who are in politics increases in conjunction with their political career.
The research of Transparency International Georgia has revealed that some MPs (or their family members) possess business assets, even from the time when they became members of parliament.
According to the Georgian constitution, an MP has no right to conduct business activities, or be the CEO of an enterprise. So, there are limits on the business activities of MPs. Moreover, an MP is obliged to give-up their business activities form the moment they become an MP.
The TI Georgia report has revealed that the property declaration of some MPs is imperfect, as it does not correctly represent the amount of property the MP possesses.
Some MPs claim that they re-registered their properties to other people after they became MPs. Analysts highlight that the business interests of MPs become clear when some MPs who have business interests did not support the adoption and amendments of the new labor code.
During Eduard Shevardnadze's administration, there were restrictions on businesspersons to join politics, while Mikheil Saakashvili's administration made it easier for businesspeople to go into politics. Analysts also think that one can continue their business activities without holding an official leading position.
According to the experience of developed countries, if a businessperson gets involved in politics, they should give-up managing the activities of this company and have only shares. So, unless there are strict regulations and a strict demand to follow these regulations, the marriage of business and politics will always be a problem.