Israeli interior minister visits Georgia
By Messenger staff
Monday, April 28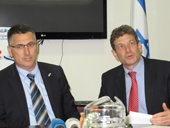 Minister of Internal Affairs of Israel Gideon Sa'ar was in Georgia on a three-day official visit on April 24-26. During his stay in Georgia, the minister met with Prime Minister Irakli Gharibashvili, ministers of justice, internal and foreign affairs, as well as Georgian Patriarch Ilia II.
In his interview with the Georgian media, Sa'ar highlighted the major aspects of his meeting with the Georgian officials, which is based on mutual respect and a sense of brotherly relations between the two nations.
Answering
The Messenger's
question concerning the lifting of the visa regime for Georgian citizens who enter Israel, Minister Sa'ar mentioned that Georgia has joined "the club" of countries whose citizens can travel to Israel without a visa.
The minister also said that lifting the visa requirements mainly concerns those people from Georgia who travel to Israel as tourists, or for religious purposes. Of course, Israeli officials do not welcome those who plan to work in Israel illegally.
According to the Israeli minister's forecast more than 10,000 Georgians will have visited Israel by the end of 2014. Meanwhile, more than 40,000 Israeli citizens travel to Georgia.
At the press conference, Sa'ar also highlighted that the state of Israel supports the territorial integrity of Georgia and Georgia's aspiration to join international organizations.
Minister Sa'ar also highlighted the role of Georgian Jews who are now Israeli citizens in contributing to the build-up of the state of Israel. Currently, two Georgian Jews – Nino Abesadze and Tzipi Hotovely– serve in the Israeli Knesset.